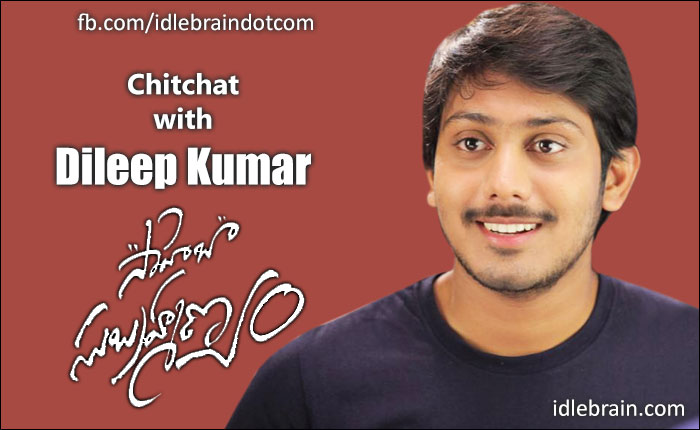 12 December 2014
Hyderabad
Dileep Kumar is making his debut as hero with Saheba Subramanyam. Thanks to the NRI producer who trusted him and put in 3 crores as the budget. Saheba Subramanyam is releasing on 13 December. Here are excerpts of an exclusive chitchat -
Background:
I am passionate about films and acting since my 5th class. I have completed my degree in Visual Communications in Loyola College, Vijayawada. When I was struggling economically get into a post graduation school, the producer Dr. K Nageswara Rao who I met on Facebook helped me. I have sent him my scanned degree certificates as I scored more than 80%. When he asked me about my future plans, I expressed my desire to become an actor. He has asked me to do research about producing a film in the most efficient way. He has set the budget as Rs. 1.5 crore. I was hesitant as I never had any acting experience. He has finally asked me to choose between studies and acting. I have chosen to become an actor. Then I went for formal training. I was trained with Vizag Satyanand for 4 days and did a month's course with Vinay Varma (Sutradhar fame).
I have told Dr. Nageswara Rao to go for a remake as it's easier to do with newcomers and it is also very cost effective. I have done research and searched for the top 2 best content films in each of our neighboring states. I have zeroed on a Malayalam love story 'Thattathin Marayathu'. Producer has bought remake rights and we retained the same music director for the Telugu version. We have roped in cinematographer Sai Prakash (Jagame Maaya), editor Prawin Pudi (Pilla Jamindar) and art director Dharmendra (Ala Modalaindi). Then we cast the first-time director Sasi Kiran Narayana (daughter of MS Narayana).
I am also involved in production of the film. I broke down the script and did scheduling. We have shot the entire movie in 37 working days. We have shot around 3 to 4 scenes a day. We have initially budgeted the movie for 1.8 cr. But, the final budget of the film turned out to be 3 crores. We have wasted 50 lacs due to our inexperience and mismanagement of money by certain people.
Output of the film is satisfactory. It will be a nice debut for me. The quality of film is going to be good. Any other producer would have backed out, but Dr. Nageswara Rao Kolla had shown tremendous faith in us and completed the project despite escalated budget cost.
Future projects:
I am looking for the feedback by audiences. I need to learn a lot. There might be another film in the same banner if things work out!