23 November 2015
Hyderabad
KIRAN
"Naaku meelaga boy friends evaru lerandi….!!"
Yes, this is the hero's response when she says in their first meeting that she doesn't have a boy friend..! So now you can imagine how quirky, awkward and shooting off his mouth character he is!!
Kiran hates NRIs, he hates America, he hates caste feelings, he hates being disciplined and being on time, he hates being disciplined, but he loves Keerthi….He is not ambitious, he has his own philosophies about proposing or about concept of love…He is a boy of today…
Through the journey of Thanu Nenu, Kiran realizes what is true love.
Introducing Santosh Sobhan as Kiran
Santosh is a student of Christ University Bangalore, studying Theatre Arts. Son of the famous director Late Shobhangaru, who gave us block buster hits like "Varsham", Santosh has hunger that we have never seen before in Sunshine...Unlike Nani and Raj Tarun who started being assistant directors, Santosh is the first hero from our banner who was focused on being an actor always...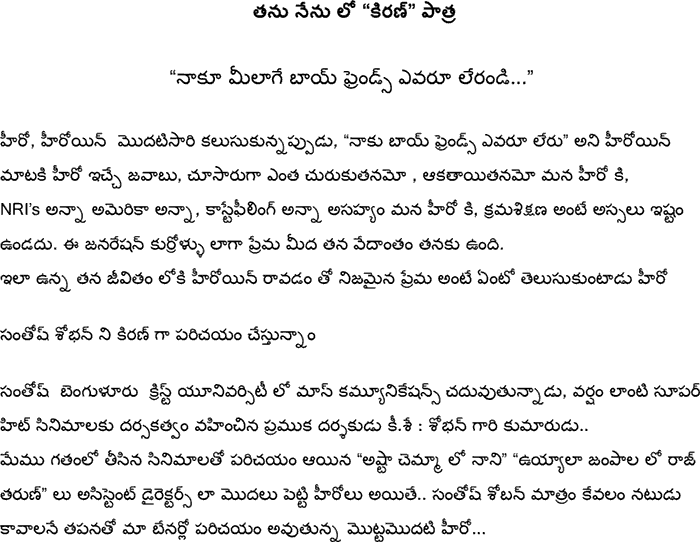 Other quirky characters of Thanu Nenu:
• Subbu Chandragiri as 6-pack Pujari
• Rohit Varma as Caste feeling Sreekanth
• Murthy Kavali as Waiter Srinu
• Ravi Babu as Bandireddy Sarweshwara Rao
• Satya Krishnan as Bandireddy Bhavani
• Abhishek Maharshi as Naresh