Story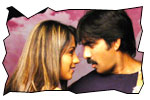 Krishna (Ravi Teja) is a happy-go-lucky guy in Vijayawada. He falls in love at fight sight with Sandhya (Trisha) who visits from Hyderabad. Sandhya is the sister of Shinde (Sayaji Shinde) who is a popular builder and mafia man. Jakka (Mukul Dev) is another mafia don who wants to marry Sandhya against her wishes. The film is all about how Krishna puts an end to Jakka and marries Sandhya.
Artists Performance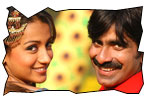 Ravi Teja is extremely energetic in the role of Krishna. He makes sure that he introduces new antics with each of his new films. In this film too he made sure that he entertained the crowds. Trisha is good in the female lead and the dubbing done to her is also good. Debutant actor Mukul Dev is impressive. The man who steals the show in the film is none but Brahmanandam. He is extremely hilarious in certain episodes. Sunil is alright. Sayaji Shinde and Jaya Prakash Reddy are adequate. MS Narayana's comedy thread should have been handled better.
Technical Departments: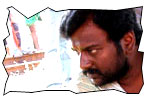 Story - screenplay - direction: Story of the film is an old fashioned one. The screenplay of the film is good. VV Vinayak who proved himself as a good mass director strengthens his grip on comedy with this film. The way he created episodes for Brahmanandam are praise worthy and he made sure that there is no boring moment in the film.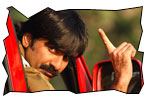 Other departments: Music by Chakri is mediocre. But VV Vinayak makes those songs appear good with nice picturization. Cinematography by Chota K Naidu is excellent. Dialogues by Akula Siva are good. Action work by Ram Lakshman is adequate. Production values by Kasi Viswanadham are nice.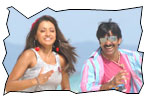 Analysis: First half of the film is breezy with nice mix of action and comedy. The second half's graph goes down a bit during the flashback episode and pre climax scenes. But the director brought back the film on track with interesting climax by blasting a couple of fully-loaded lorries. The plus point of the film are comedy by Brahmanandam and Ravi Teja. VV Vinayak who disappointed us with his last film Yogi can have a sigh of relief now. On a whole, Krishna (the power of Indrakeeladri) is a decent entertainer.
Krishna links
• Photo gallery
• Music launch
• Wallpapers
• In USA
Jeevi reviews of previous 5 films
• Mee Sreyobhilashi
• Anasuya
• Mantra
• Seema Sastri
• Athidi
• Tulasi
• Bhayya
• Chirutha
• Happy Days
More Reviews