Story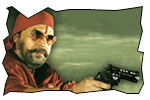 Palakollu (Dasari) comes from nowhere and joins Vizag shipyard as a labourer and becomes their mesthri (leader) in no time. He solves the internal issues of the workers there. The local benevolent politician Gopala Krishnaiah (Vijaya Kumar) recommends and gets a big chunk of land piece for the workers. But the local mafia occupies that land forcefully. The rest of the story is all about how Mesthri solves it all and it is also about the background of Palakollu.
Artists Performance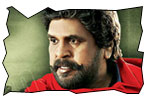 Dasari is good as Mesthri. But he looks unfit for the role of military major in the flashback episode. His dialogue delivery and acting during the time of solving labor problems is good. But stunts for Dasari in this film are uncalled for. Mohan Babu is excellent in a small yet, vital role of army officer who succumbs to the local goons. Srihari has an important role as a suspended cop. Sujitha did the role of Mohan Babu's daughter. Vijay Kumar did a big role in this film and he is adequate. MS Narayana provides some comedy. Sayaji Shinde looks more like a joker in this film than as a villain.
Technical departments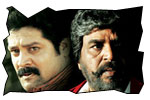 Story: Story of the film is about a military major finding out the culprits who is behind the murder of his protégé. Suresh Krishna did his popular format of flashback narration he has been following for over a decade since Basha. The vital twist of Gandhian turning into the villain seems to have been borrowed from Ram Gopal Varma's Sarkar. Direction of the film is old-fashioned with no grip in narration. Screenplay takes the beaten path.
Other departments: Songs by Vandemataram Srinivas are mediocre. Background music is bad. Cinematography is adequate. Dialogues are ok. Editing is inadequate.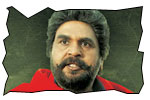 Targeting Chiranjeevi:
Dasari attacked Chiranjeevi in this film by making many references in the final reels of the film. He used the character of Vijaya Kumar who starts a new party. There is a remark in the film where Dasari said people would come and attended the road shows in huge number even if sex bomb Shakeela comes for canvassing. There is another stringent criticism that caste played a major role in the rise of a celebrity. There is a reference for using Gandhi and Ambedkar images in the background (pedda valla photos venuka pettukunnatha matrana nuvvu kooda pedda vaadivi kaavu). The first press meet of Chiranjeevi held at his party office announcing his entry is also replicated in the film. The reference of a physically challenged man garlanding the leader appear to be aimed at Chiranjeevi.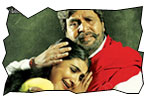 Analysis: First half of the film is mediocre and second half is bad. The plus points of the film are Dasari's tactics of wooing labors in the first half and Mohan Babu's performance in the second half. The negative points are old fashioned direction, routine screenplay and lack of gripping narration. Dasari Narayana Rao should have concentrated on giving better movie in form of Mesthri than using it to criticize Chiranjeevi. On a whole, Mesthri disappoints a big time.
Mesthri links
• Music launch
• Photo gallery
• Trailers
• Wallpapers
Jeevi reviews of previous 5 films
• Naa girlfriend baga rich
• Drona
• 16 Days
• Satyameva Jayathe
• Siddham
• Nenu Devudni
• Konchem Istam Konchem Kastam
• Shh...
• Arundhati

More Reviews