Story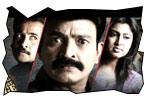 Satya (Rajasekhar) is an honest cop who is entitled with the job of bringing a terrorist-suspect Dr. Ansari (Atul Kulakarni) from Vizag to Hyderabad. A terrorist (Milind Soman) has a personal score to settle with Satya and his job is to help Dr. Ansari escape from Satya's custody. The rest of the story is all about how Satya does his job successfully.
Artists Performance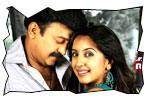 Rajasekhar is adequate as an angry cop. Atul Kulakarni is excellent. Sivaji is ok as the playful cop. Siva Reddy is decent as a constable. Sheryl Pinto is average. Neetu Chandra is wasted in this film. An actress of her caliber shouldn't have done such an insignificant role. The Telangana dialect did not suit the character. Sanjana is adequate as the wife of hero in the flashback episode. Sayaji Shinde and Ahuti Prasad are fair. Politician M Satyanarayana Reddy acted as CM in this film and he entertains.
Technical departments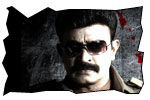 Story - screenplay - direction: This film is a remake of Hindi flick Khakhi. Rajasekhar made some amendments in the beginning of the film. The rest of the story, screenplay and direction follow the pattern of Khakhi film. Jeevitha Rajasekhar who has shown some promise as a director with Seshu film fails to get it right with this film. Direction of the film is not up to the mark. We don't except her to do a few vulgar scenes (involving Sivaji and Sheryl) in her direction. Visuals of some of the scenes (railway transport) and a song (Aisa Jadoo Kiyare featuring Lara Dutta) are taken from Khaki film. There is also a scene targeting Chiranjeevi for using Mother Teresa image.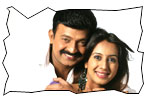 Other departments: inematography of the film is mediocre. There is no consistence in the lighting work. Music is not up to the mark and most of the tunes are lifted ones. Dialogues are alright.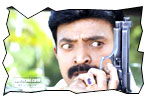 Analysis: Satyameva Jayathe film is a remake of Hindi flick Khakhi. And no proper attention is paid while doing the script work and shooting the film. Hence you see glaring inconstancy throughout the film. Khaki was basically a nice made film and it was targeted to A class audiences. Satyameva Jayathe is a dumb-down version of Khakhi which mostly caters to B and C crowds.
Satyameva Jayathe links
• Rajasekhar interview
• Music launch
• Muhurat
• Photo gallery
• On the sets
• Wallpapers
• Video songs
Jeevi reviews of previous 5 films
• Siddham
• Nenu Devudni
• Konchem Istam Konchem Kastam
• Shh...
• Arundhati
• Maska
• Indumathi
• Sasirekha Parinayam
• King
• Neninthe

More Reviews