Story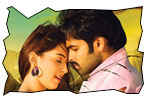 Krish Jagarlamudi (not the Gamyam director, but hero Ram) is a spoilt brat who looks for shortcuts to earn fame and money. Unable to clear his graduation and get a job, Krish plans to love and marry a rich girl Manju (Sheela) who is going to USA. In the process he meets another girl Meenu (Hansika Motwani) and really falls in love with her. The rest of the story is all about when both these girls come to know about the cheating nature of Krish. There is also a political twist to the story.
Artists Performance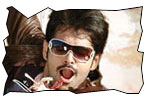 Ram: After Devdas, this film gives an oppurtunity to Ram to portray the entire gamut of emotions. His dances are amazing in Hare Hare Rama (1st song) and Bagdad Gajadonga (last song). He moves his body like a spring in those songs. He handles comedy department exceptionally well with the right dialogue delivery and diction. However, we do notice an uncanny resemblance to the body language of Pawan Kalyan in Ram's performance.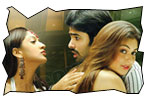 Heroines: Hansika Motwani did a traditional character in this film. She is pretty good. The fans of Hansika will have a whale of time in 'Kalloki Dilloki' song where she wore a micro mini skirt (with a low angle camera). Sheela who looks pretty traditional did the role of temptress in this film. And she is extremely glamorous with liberal exposure of her dusky skin.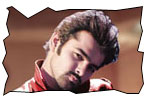 Other actors: Sunil did a full-length role in this film after a long gap. He is extremely good and provides lot of entertainment. After doing Kokapeta Aunty in Tulasi, Jhansi has done another entertaining role that speaks in Nellore slang. Brahmanandam did the role of a kidnapped doc and he is just average. Introduction scene of Paruchuri Venkateswara Rao is good. One does not understand what Krishna Bhagawan is doing in this film. He has one insignificant scene with a single dialogue. Ali is also wasted. Mukesh Rushi, Pradeep Rawat, Naresh, Dharmavarapu and Telangana Sakuntala are adequate.
Technical departments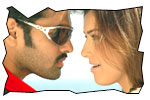 Story - screenplay - direction: Story of the film is provided by Surya. He judiciously mixed a triangular love story with an action backdrop. Screenplay of the film is considerably good. MS Raju borrowed the Vaali screenplay where hero shows a photo of a girl to tell the story to heroine and the girl in photo meet hero in real. The thread of conversing in numbers has got good commercial payoff in the second half. The direction by B Gopal is decent in the first half. There is a bit of lag in pre-climax scenes. The hero shifting his love from Sheela and Hansika should have been shot more efficiently. The villains are projected as the most dreaded till climax and they are shown in the positive light at end. Hence there is no commercial payoff for the action/mass part of the film.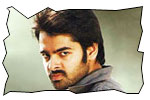 Other departments: Music by Chakri is good. The picturization of the songs is excellent. But the director could not place these songs effectively into the film. The choreography for 1st song (Hare Hare) and last song (Bagdad Gajadonga) by Prem Rakshit is pretty cool. Cinematography is nice. The locations in 'Kalaganna' song are good. Dialogues by Paruchuri brothers are good. They wrote nice comedy one-liners as well as good mass dialogues. Production values by MS Raju are grand.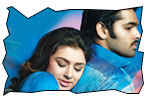 Analysis: First half of the film is handled well and provides entertainment. You can see B Gopal kind of mass elements in the second half. The movie goes slow towards the climax of the film. The plus points of the film are Ram and first half. On the flip side, there is a bit of lag in the last half an hour of the film and more clarity is needed in love triangle. On a whole, Maska has got entertainment elements that might work at box office.
Maska links
• Music launch
• Press meet
• MS Raju chitchat
• Chakri chat
• Wallpapers
• Photo gallery
• Trailers
• US schedules
Jeevi reviews of previous 5 films
• Indumathi
• Sasirekha Parinayam
• King
• Neninthe
• Dongala Bandi
• Kuberulu
• Surya s/o Krishnan
• Avakai Biryani
• Blade Babji
• Nenu Meeku Telusa?
• Kotha Bangaru Lokam
• Rainbow
• Chintakayala Ravi

More Reviews