Story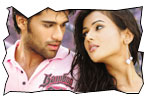 Shyam (Raahul) is an orphan and a painter who works for Berger Paints in creative department. Kamala (Sindhu Menon) is a mute girl and a neighbor of Shyam. They share a cozy friendship. Swapna (Sonal Chauhan) comes from Bhimavaram and her aim is to become a heroine. Shyam falls in love with Swapna at the first sight. He wants to make her realize her dream. He helps her out and she becomes a heroine at the cost of Shyam. The rest of the story is all about what happens when Shyam proposes to Swapna.
Artists Performance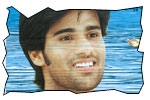 Raahul: The audiences who watched Raahul as a nerd in Happy Days are going to find him in a glamorized way in the role of Shyam. He is adequate as an actor. He needs to be little more flexible in his body language. Hema Chandra's dubbing is a huge asset to his character though his diction and pronunciation resembles us a bit that of Vishal (bilingual hero).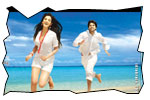 Others: Sonal Chauhan is an asset to the film. And she appears like a Telugu girl in traditional outfits. Sindhu Menon did a performance oriented role and she exudes confidence. Rajamouli surprises everybody with his perfect work as an actor. He enacted the role of 'director Rajamouli' in this film. He can seriously consider doing big roles as an actor if he gets sufficient time. Prakash Raj is impressive though he donned a short role. We see Gollapudi Maruthi Rao on Telugu screen after a long gap. MS Narayana's comedy is good. Sunil and master Bharat's comedy is ok. Dharmavarapu's laughing treatment thread is mainly aimed at B and C center crowds. Hema's get-up and diction in this film is completely different from her regular movies. Paruchuri Venkateswara Rao is adequate. Siva Reddy got a key role in the film and he performs well.
Technical departments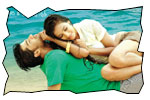 Story: The basic story line has a stark resemblance to that of K Viswanath's Sirivennela with Raahul (color blind), Sindhu Menon (mute) and Sonal Chauhan (film star) having similarities to the characters of Benerjee (blind), Suhasini (mute) and Moon Moon Sen (glamorized role). The thread of Raahul taking money from Sindhu Menon and spending it for Sonal Chauhan reminds us of Pawan Kalyan-Preeti-Aditi thread in Tammudu film. Inspite of the above mentioned similarities, the story line still holds value of interest because of the backdrop of color blindness. Balabhadrapatruni Ramani penned the story.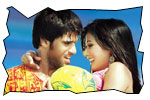 Screenplay - direction: The screenplay of the film starts with an accident in the style of Gamyam. The screenplay in the first half is adequate. But it is not good in the second half. Director VN Aditya tried to make a clean and healthy film with a noble storyline. But the narration of the film is not gripping enough to make an interesting viewing. Direction of the film is just adequate. But some of the scenes in the film are old fashioned and clichéd. However, it is nice that the director cared to explain the concept of color blindness and why the hero got color blindness through the character of Prakash Raj. Some of the scenes look unconvincing like heroine coming to hero's home for an overnight stay at their first meet.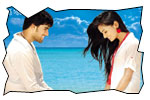 Other departments: Music by Nihal is good. The best song on the screen is 'Aasa Chinni Aasa. The surprise pack of the film is the cinematography. The cinematographer Santosh Srinivas did a very good job (this could probably due to Digital Intermediate too). The junior artist dialogues written for MS Narayana are entertaining.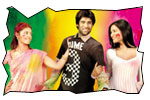 Analysis: Making a film like Rainbow is like entering a danger zone. Stories like these need strong narration and grip on emotions in order to work. If the narration is not strong enough and if the emotions do not strike well with the audiences, films like Rainbow do not work since there is no other commercial padding. The plus points of Rainbow are a novel story point, good music and good cinematography. The negative points are lack of gripping narration and old fashioned scenes. We have to wait and see how it fares at the box office.
Note: It is a known fact to the visitors of idlebrain.com that I stopped reviewing films that deserve a rating less than three long back. I would like to thank the director and producer VN Aditya for being sportive enough and for asking me to write a review of Rainbow even if the rating is less than three.
- Jeevi .
Rainbow links
• Music review
• Music launch
• Press meet 2
• Press meet
• Photo gallery
• Wallpapers
• Trailers
• In USA
interviews
• VN Aditya
• Raahul
• Sonal Chauhan
• Sindhu Menon
• Nihal
• Sunitha
Jeevi reviews of previous 5 films
• Chintakayala Ravi
• Souryam
• Gunde Jhallumandi
• Saroja
• Ashta Chemma
• Kathanayakudu
• Ullasangaa...
• Ready
• Dasavatharam
• Pandurangadu
• Kantri
• Parugu
• Bhale Dongalu
• Jalsa
More Reviews