Story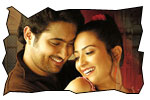 Balaraju (Uday Kiran) is an uneducated guy in a village. He wants to be the president of the village for which the minimum educational qualification is a bachelor degree. Hence he is forced to come to Hyderabad and join a college to pursue the requirement. Neelima (Aditi Sharma) also studies in the same college. In order to avoid the nuisance of love proposals, she tells everybody that she has a boy friend called Rajesh. In turn, Balaraju tells her that he has a girlfriend called Lavanya. The rest of the story is all about how they fall in love.
Artists Performance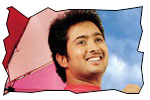 Uday Kiran: Uday Kiran has done excellent work in this film. He has put on a bit of weight as per the character demand. His body language as a village boy in the initial part of the film is very good. His histrionics in emotional scenes towards climax are mature. His dialogue delivery has improved tremendously. You will see a completely new Uday Kiran in this film.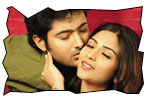 Others: Aditi Sharma is pretty good as heroine. Srinivas Reddy has a variety role in this film. Venu Madhav entertains in his typical style. The kid in this film is good. Ajay did a negative role. Dharmavarapu Subramanyam, Jaya Prakash Reddy, Surekha Vani and Ahuti Prasad are adequate.
Technical departments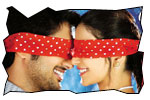 Story – screenplay – direction: Story of the film is novel. Madan came up with interesting screenplay technique in the film. The way he created Srinivas Reddy character as imaginative friend is of typical Woody Allen style. The 'macha' thread is also interesting. The resounding magic of Golkonda is cleverly used in this story. Direction of the film is a good in parts. Madan could not maintain consistency in the tone of the film. In certain situations the love is projected as a sensible and tender one and in some other situations it is completely commercialized. The concept of 'lovers union' is completely unconvincing.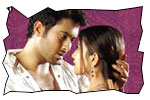 Other departments: The major highlight of the film is excellent work done by MM Keeravani for songs and background music. Dialogues written by Madan are good. Cinematography is nice. Editing is alright. Production values are decent.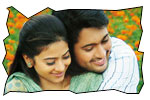 Analysis: First half of the film is pretty good. The second half is little slow. Gunde Jhallumandi looks very good on the paper and at the script level. The same level finesse could not be brought onto the big screen while executing it. The writer in Madan does an excellent job where as the director Madan could not match up with the writer. The plus points of the film are music and writing. On the flip side, the 'lovers union' thread is unconvincing and screenplay of the sudden appearance of real Rajesh should have been dealt better. Gunde Jhallumandi is a much better film for Uday Kiran in the recent years. And this film has got all ingredients of becoming a minimum guarantee film.
Gunde Jhallumandi links
• Uday interview
• Madan interview
• Music launch
• Press meet
• Photo gallery
• Wallpapers
• Trailers
• US schedules
Jeevi reviews of previous 5 films
• Saroja
• Ashta Chemma
• Kathanayakudu
• Ullasangaa...
• Ready
• Dasavatharam
• Pandurangadu
• Kantri
• Parugu
• Bhale Dongalu
• Jalsa
More Reviews