Story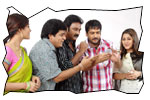 The 500-crore worth Nizam jewelry is stolen by a don's man. He buries that jewelry in Vivekananda Colony, takes some photos of the location by using his mobile camera, leaves that cell phone in a house and dies in an encounter. Don (Dr. Siva Prasad) knows that the cell phone is in Vivekananda colony. He sends his men to search for the camera.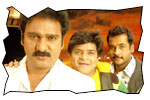 Siva Prasad (Sivaji) is from a remote village and is in deep debts because of his helping nature. He comes to Hyderabad to earn some money. He settles in Vivekananda colony along with his friends. He comes to know through a paper clipping about the robbery of jewelry. He is also in the lookout for the treasure. The rest of the story is all about how Siva Prasad finds out the treasure.
Artists Performance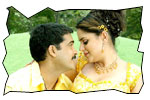 Sivaji and Ali imitate YSR and Chandra Babu Naidu respectively. Sivaji has put on some weight and he need to reduce it. Farzana is alright as the female lead and she too put on fair bit of weight. Krishna Bhagawan creates some comedy with his typical one-liners. Kausha did a vamp role which has two songs. MS Narayana is funny as the doctor who falls for Telangana Sakuntala. Siva Prasad is loud as the villain imitating Nagarjuna of Don film.
Technical departments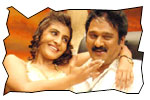 Story - screenplay - direction: This kind of story line needs an interesting screenplay and deft direction. And Kuberulu fails to convert a good story into an interesting film as the direction is shabby and the screenplay is bad. There are some occasional laughs, but the narration of the film is quite uninteresting.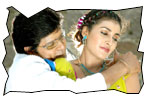 Other departments: Music by Jeevan Thomas is mediocre. He reused 'Move Your Body' ('doob jaa mari pyaar mein') song from Hindi flick Johnny Gaddar. Dialogues are adequate. Cinematography by Ram Pinisetti is not up to the mark. The production values of the film are also inadequate.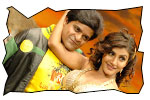 Analysis: Director Srinivasa Reddy failed to capitalize on an interesting plot. The movie suffers from shabby direction and inept screenplay. Whatever comedy it has is targeted mainly towards B and C centers. The fate of this film depends on how B n C masses take it.
Kuberulu links
• Music launch
• Press meet
• Wallpapers
• Photo gallery
• Item song pix
Jeevi reviews of previous 5 films
• Surya s/o Krishnan
• Avakai Biryani
• Blade Babji
• Nenu Meeku Telusa?
• Kotha Bangaru Lokam
• Rainbow
• Chintakayala Ravi
• Souryam
• Gunde Jhallumandi
• Saroja
• Ashta Chemma
• Kathanayakudu
• Ullasangaa...
• Ready
• Dasavatharam
• Pandurangadu
• Kantri
• Parugu
• Bhale Dongalu
• Jalsa
More Reviews