Story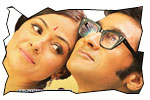 Krishnan (Surya) loves Malini (Simran) and marries her. Krishnan becomes a more responsible person after giving birth to Surya (Surya). For Surya, his father is a role model and a motivator. Surya falls in love with Meghan who he met on train. He goes to the extent of going to USA to see that girl. Something terrible happens and it forces Surya into a depression. The rest of the story is all about how his parents motivate to redeem himself.
Artists Performance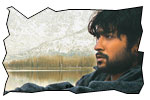 Surya: Surya played the role that spans a lifetime. He is an extremely gifted actor and he plays two roles of varied dimensions without imitating anybody. He portrayed various shades in a highly impressive style. He applied minimal/realistic make-up unlike Kamal Hassan and came up with fabulous histrionics. The dubbing done to Surya is superb.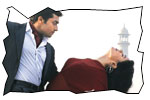 Others: Sameera Reddy sweeps you off your feet with her looks in this film. She is looking ravishingly sexy (no exposing). Her smile is cool. The dubbing done to her has a sexy huskiness in voice. Divya Spandana (Ramya of Kannada films) is adequate. Simran is excellent and you can see the transformation of her from a teen girl to 50-year old lady.
Technical departments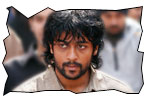 Story - screenplay - direction: It is pretty hard to incorporate a life story into 3 hour film. Life is not like a box of chocolates; it has many bitter moments too. Director tried to narrate the story of a life time in 'Forrest Gump' style. But making a biographical film in India has a strong drawback. People enjoy the good moments of life, but are little averse to the bitterness life offers. And a semi-biographical story should be told with nice amount of dramatization like Mani Ratnam did for Guru film. I don't find anything wrong with the direction as Gowtam Menon is just perfect in this film. What I did not like is the screenplay in the second half. We can't watch hero going through depression and resorting to drugs. The pace of the film is the major problem. The entire romance thread between Sameera Reddy and Surya is excellent and extremely natural. The kidnap rescue episode and the war scene in the end slow down the pace of the film further.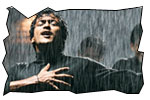 Other departments: Music of the film is fabulous. All three guitar based songs – Yedane Koyake, Nalone Pongenu Narmada and Monna Kanipinchavu – are magnificent. Listening to the music of the film, nobody would have an iota of doubt about the strained relationship of Gowtam Menon and Harris Jayaraj. Dialogues are crisp and realistic. There are many English dialogues as well. Cinematography by Ratnavelu captures the mood of the film. Production values are extraordinary.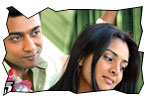 Analysis: The movie starts off on a grim mode. The first half of the film is nice with the romance between 'Surya – Sameera' being the highlight. But the second half is too slow and little boring. Semi-biographical films would not work in Telugu unless there are dramatic elements in it. The positive points of the film are Surya's multifaceted performance, the romance with Sameera and the music. The negative points are unappealing second half and slow narration. Surya s/o Krishnan is a kind of film which you would like to watch it on a DVD for the depth it offers, but not in cinema halls where we watch films to get entertained. On a whole, Surya s/o Krishnan is a film that suffers from too much of realism and slow paced narration.
Surya s/o Krishnan links:
• Gowtam Menon interview
• Press meet
• Music launch
• Photo gallery
• Wallpapers
• Trailers
• US schedules
Jeevi reviews of previous 5 films
• Avakai Biryani
• Blade Babji
• Nenu Meeku Telusa?
• Kotha Bangaru Lokam
• Rainbow
• Chintakayala Ravi
• Souryam
• Gunde Jhallumandi
• Saroja
• Ashta Chemma
• Kathanayakudu
• Ullasangaa...
• Ready
• Dasavatharam
• Pandurangadu
• Kantri
• Parugu
• Bhale Dongalu
• Jalsa
More Reviews