Story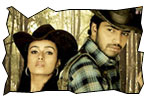 During the time of Nizam empire integrated into India, the Nizam king amasses all his precious jewellery and gives it to his lieutenant to hide it in a safe place. Three thieves (MS Narayana, Allari Naresh and Ali) steal the treasure and hide it in a jungle. Then they draw the map about how to reach the treasure and tear it into three pieces. They take one piece each. After that incident they never get a chance to meet again. After 50 years, the kins of these three thieves start their mission to get the three pieces of map together. The rest of the story is all about the treasure hunt that follows.
Artists Performance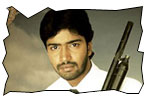 Allari Naresh is very good as the pretty thief. He is amazing in various film spoofs he has done. Actress Tanya is not a heroine material. MS Narayana's spoof as Okka Magaadu is interesting. Ali is alright as the tribal chief. Venu Madhav is paired up with a sexy girl (Malishka) in this film. This film sports almost all the comedians of Telugu film industry.
Technical departments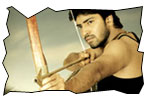 Story - screenplay - direction: : Story of the film has interesting elements and has the potential to be a winner. It is a spoof of treasure hunt films. But the direction of the film is bad. Screenplay is also uninteresting. There are few hilarious episodes like Dhoom spoof, train episode and Ali bumping into the tree. But some of the comedy episodes are in cheap taste. The man-eaters episode is handled very badly. Most of the second half involving the treasure hunt is boring. The director used the sun-eclipse cheating technique from 'Apocalypto' (click here for Jeevi Review) film.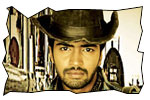 Other departments: Music of the film is not up to the mark. All the songs in this film are not shot well. Dialogues are adequate. Cinematography is mediocre. The art work done for the tribal village (koya gudem) is good. Production values of the film are not good.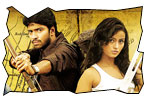 Analysis: First half of the film is so-so. Second half is bad. The plus points of the film are a few hilarious episodes. The negative points are screenplay and direction. On a whole, Allari Naresh's Dongala Bandi (that followed a hit film Blade Babji) disappoints big time. However, this film may still hold some potential for B and C center centers.
Dongala Bandi links
• Music launch
• Press meet
• Muhurat
• Wallpapers
• Photo gallery
Jeevi reviews of previous 5 films
• Kuberulu
• Surya s/o Krishnan
• Avakai Biryani
• Blade Babji
• Nenu Meeku Telusa?
• Kotha Bangaru Lokam
• Rainbow
• Chintakayala Ravi

More Reviews