Story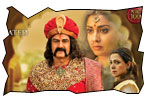 The story belongs to AD period. Satakarni (Balakrishna) is raised by widowed queen mother Gauthami. Satakarni dreams of unifying the land when he is a kid. His aim is get all the small kings under one reign and thereby propagating peace and developing economy. At the same time, Satakarni understands the value of motherhood and names himself as Gautamiputra Satakarni (Satakarni s/o Gautami). The story of the film is about how he won the battles and how he respects the women (mother and wife).

Artists Performance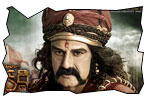 Balakrishna: Bala Krishna has interpreted the character excellently and changed his body language to suit the character. It's a role that he has to be ferocious in battles and be sensible in household. He has got that balance perfectly. There is also a 'thoda kotte' scene in the film which is beautifully used towards climax. One should appreciates the guts of Balakrishna to accept such a historical role for his 100th films. Balakrishna has excellent command over delivering complex words and he uses his delivery skills to maximum effect.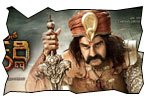 Others: Hema Malini plays the role of hero's mother with a lot of grace. An actress of her stature is needed for the role of hero's mother because she is instrumental in shaping up Satakarni as not only a warrior, but also women-respecting person. Shriya Saran plays Satakarni's wife role with a lot of poise. Kannada superstar Shiva Rajkumar does a cameo as burra katha narrator in a song. Kabir Bedi plays a vital role. Noted actors like Siva Krishna, Tanikella, Subhalekha Sudhakar etc are seen in other notable roles.
Technical departments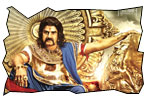 Story - screenplay - direction: It's very difficult to make a film on a historic personality whose information is scarcely available. Since it's not possible to show everything in two hours, Krish has taken two important aspects of Satakarni's life - 1. Unifying the land. 2. Respecting the women. He has also written screenplay in such a way that battle scenes and women (mother/wife) scenes are juxtaposed. It needs a lot of planning and execution to complete a film with such a vast canvas in such a short period of time. Krish should be appreciated for dreaming big and executing it without any hiccups in short period of time and with reasonable resources. He has elevated heroism of Satakarni not only in war scenes, but also in the scenes where the importance of woman is highlighted by hero character. The way conversation between son and mother about unifying land is shown as backdrop for titles and then revisiting it again with visuals in the second half is good. However, explaining of the battle strategies and then executing them should have been more effective. Though battles are well picturised, the director should have added more emotion in those battles. Since, he has concentrated mainly on wars and relationships (mother/wife) while writing the story, there is less scope to have universal appeal to it.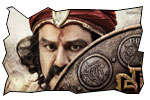 Other departments: Dialogues by Sai Madhav are definitely one of the major highlights of the film. There are many sensible dialogues that deal with motherhood. The way he wrote punch dialogues without them appear like punch dialogues is appreciable. A few of such dialogues are - Manam Kathalu cheppa koodadu, mana kathalu janaalu cheppali, thala vanchaku - adi nenu gelichina thala, desam meesam thippudam, nenu bottu pettindi bhartaku kaadu oka charitra ki. Cinematography Gnana Sekhar is excellent. Songs are well scored by Chirantan Bhatt and background music is effective in second half. Lyrics by Sirivennela have good depth. Vfx work is reasonable considering time and resources. Art direction needs a special mention. Sets, locations and forts are grand. Editing is good. Producers deserve a round of applause for the speed at which they bought out such a historical film without compromising on quality.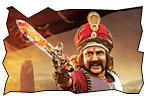 Analysis: It's a known fact that cinemas act as teaching tools for history. We might not learn about history in textbooks, but if it's made as a cinema, it creates a long-standing impact. When I was a kid, if anybody asks me to name a king, my immediate response would be Sri Krishna Devarayalu as I had seen films on him. 99% of the movie lovers doesn't know about Satakarni as it happened in AD and we don't have any documentation. Krish should be appreciated for digging the history and introducing us one of the greatest Telugu warriors with this movie Gautamiputra Satakarni. Since the movie is made as issue-based (battles and respecting women) and didn't show the background and rise of Satakarni, there will not be any scope for historical distortion. A film like Gautamiputra Satakarni should be encouraged by watching in theaters because it introduces us our own Telugu hero who ruled the unified nation.