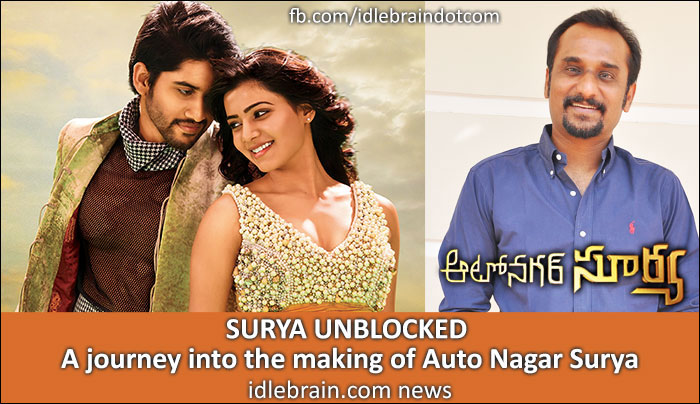 10 July 2014
Hyderabad
Introduction:
In this last and final installment of articles related to AutoNagar Surya, I would like to summarize the entire journey running through the conception, making, release and response of the film from my point of view. I would also like to share what worked and what didn't work for me as a filmmaker. I believe we are all one interconnected system (filmmakers, audience and the critics) and any flow of genuine information can only make us more related to each other.
The Genesis:
Please find my article "The Seed of Auto Nagar Surya" that kick started my thinking about Auto Nagar Surya at http://idlebrain.com/news/today/autonagarsurya-theseed.html.
One of the most influential films after Godfather on me is Sergio Lionne's "Once Upon a Time in America". I've long wanted to tell a story based on a bunch of nomads from streets growing with different attitudes and conflicts into a social ambience. Right after Prasthanam I read Ayn Rand's Atlas Shrugged and was tremendously pulled into her perspective on 'value system' and the very definition of 'self-esteem'. All these working together on my mind gave birth to the character Auto Nagar Surya. The four things I needed to drive this story were.
1. A highly business oriented provincial city that we can all relate to
2. A fresh canvas which connects to us but not seen on screen yet
3. A couple of inventions that we can all understand and are living with currently.
4. A time period to justify all the above.
I chose automobile industry (remodeling and restructuring) as the canvas since I am a mechanical/automobile engineer myself. For Telugu nativity the two prominent provincial cities (not a cosmopolitan like Hyderabad) are Vizag and Vijayawada. I chose Vijayawada because it's more related to the transport and automobile industry. Looking back at the inventions that we can relate to today, I chose diesel and battery model vehicles. Matching those inventions being in their infant stages, I chose 80s and 90s as a time frame to narrate Surya's story. I deliberately chose to avoid cell phones and many other modern glossy elements that our eyes are used to today. The period setting could have been done more meticulously but I didn't want people to alienate it as an old film. On the other hand we also didn't have enough funds to demand for such a highly constricted execution. So we went forward with a mindset just to make sure it doesn't look modern.
The most important thing for me with this story was to convey a perspective on 'value' and 'dignity' and illustrate how someone with that perspective is broken into pieces when played into our current system and culture of thinking. 'The breeding ground for violence' is nothing but our fundamental perspective about life itself.
The pitch of the story:
Just coming out of Prasthanam, I deliberately chose to take the first half hour of 2nd half on a lighter vein relying on the fact that the cruelest of villains (loafers) also have a family life and there is something they are also possessive about.
"prapancham lo andarikannaa ekkuva bhayapade vaadevado thelusaa…?
bhayapettevaadu….vaadiki bhayam thappa vere feeling theleedhu"
In this case, Indra is possessive about his only son who was born by his fourth wife after eight female kids born by his other three wives (you can see three other ladies next to JP's fourth wife all the time-an emphasis lost in trim ). While developing the story we took this lenience even though we had couple of other thematic drives at this juncture. We made this choice consciously because many industry experts complained that Prasthanam was too serious for Telugu audiences, especially the 2nd half. Well we didn't expect this long delay at that time which will bring so many audiences to theaters to watch another Prasthanam (the first target release date for ANS when I signed the project was December 2011!!).
I'm not sure if I would have made the same screenplay choices had I learnt the depths to which Prasthanam would reach over a period of time. The lesson now is to simply stick to the life of characters and find the mix of emotions (humor, intensity or tragedy) within the characterization fold.
Production and the spread of shoot:
Our first day of shoot was 14th October 2011. By then the production house started facing financial crunch due to other outings. Right from day one our shoot was a stop-and-go until June 2012. We also had a three months break after 40 days of shoot before starting the set shoot. By August 2012 we were left with 2 songs and 1day patch work (total 7 days) to complete the film. Those 7 days shoot was completed in November 2013 after a 15 months break. During this entire gap, I was anchored to the project believing in several re-start and release dates that never materialized. If I were just a writer, actor or a cinematographer it would have been easier to move on to other project. Being a director I have to make sure the content is not tampered.
I strongly believe that "spoiling a film takes nothing but keeping it alive takes everything".
One thing I didn't realize until the morning show was that this entire process had already taken toll on the film to a noticeable extent. To whatever extent the content worked today is only because of the commitment shown by the core team at the cost of another movie's worth time.
The release stalls:
The film was postponed several times expecting funds from somewhere. One fine day everyone thought it's "now or never" and decided to let the movie go. From what I heard, starting from 25th of June and all the way till the morning show, there were forces acting on to stall the release once again. But the stakes were too high by then and everybody did their bit to get it out.
Ideas are time bound:
Every idea is time bound…it matters when you cook and when you serve. The writer in all of us is time-bound and he reacts to the moment and reflects the collective conscience of people for that moment. As time changes, people change… habits, tastes and styles change. Three and a half years is a long time to keep an idea un-served. If I were to make Auto Nagar Surya today, I may not make the same screenplay decisions that were made out of commercial insecurity three and a half years back. I would have drawn that commercial security from the current level of appreciation for Prasthanam. I can see at least half a dozen films, which had coincidental plot elements that made portions of ANS a bit familiar by the time it hit theaters.
(Movies like Ammoru and Arundhathi are niche subjects and they fight time delays better than social films. Most of our films are social and they carry parallel sub-plots to drive the story).
Each and every force that worked against the film through this prolonged process took a piece of the movie away from audiences. Adding to that Prasthanam kept growing with viewers and critics leading to much higher expectations in terms of cinematic integrity, which is simply what I want to stick to as well…after all this experience. Irrespective of these analystic, I totally agree with all the critics and at peace with them as it's me who made those sub-plot decisions consciously in the 2nd half, thinking that it'll reach wider audiences.
I reckon the expectation for a highly integrated film helped us generate overall revenue close to 16-17cr (including satellite) and this wouldn't happen without Prasthanam. It gives me the needed assurance that there are sufficient audiences for the cinema I believed in while making Prasthanam. I won't shy away from that discipline going forward.
What kept and will keep Surya alive? :
Surya is an injured and bleeding orphan from his infancy but he is carrying a 'value' to offer. The conversations written in ANS are genuine to the characters and our lives. We always dig for honesty and retrospection without which we cannot survive as human beings. What comes out of a honest soul will live by itself and will eventually find it's value in our lives.
The number aspects:
I do agree the distributors will incur losses anywhere around 20-30% based on the prices paid. But I do want to mention the fact that the actual spending on the film is much less than what it could generate despite the mixed response for 2nd half. I need to mention this fact to appreciate the efforts of creative teams comprising camera, art, direction and the production departments. The fiscal safety of a film can only be achieved when all these departments are responsible. These people contributed more than what they were paid for and this is the only way I can pay them back, by recognizing their effort on public platform. I also want to reach a point where irrespective of the results of a film, the budgets must be recoverable. That's the only way to make genre films with stars or without stars and it takes a team to do that.
So long Surya….
Above all, AutoNagar Surya helped me learn how to present a hero-centric/hero-driven story without resorting to lame content. It's the format we are widely used to. As a screenwriter it's a breakthrough for me away from Vennela and Prasthanam formats. All I can say is "thank you Surya" for teaching many lessons on-screen and off-screen in this entire journey….so long, Surya!!
"manishelaa bathakaalo nirnayinchedhi vyavastha kaadhu, manishe vyavastha"
- Deva Katta
The SURYAs behind Auto Nagar Surya articles by Deva:
NANDU as KICHAA
SAMMETA GANDHI as RAGHAVAYYA
NAVIN NENI as GOLIE
AJAY GHOSH as GIRI's AID
Ajay as Giri
Madhu Singampalli as Mayor Kotalingam
The seed of Auto Nagar Surya by Deva Katta
snippet 1: anaadhane.. kaani anaamakudini kaadu
snippet 2: edagadam
snippet 3: Motor Caste.
snippet 4: Loafer Jaathi