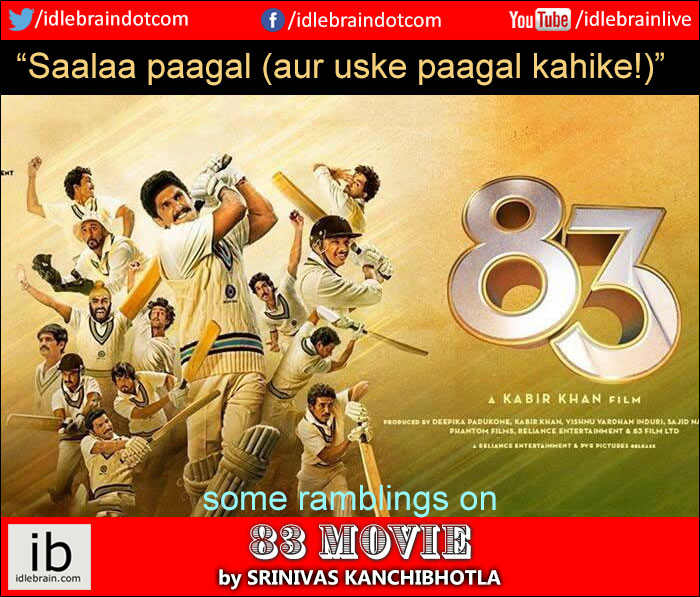 It is near impossible to explain the unprecedented success of Indian cricket during the period 1983-1985 from a limited overs perspective. It practically won two 50 over World Cups and swept everything in between - Asia Cups, Australiasia Cups et al. However during the same period, the bilateral series' results stood in stark contrast. Soon after the epochal moment (in Indian cricket) of the Prudential Cup victory, the West Indies contingent landed in India braying for blood to exact revenge for their ignomious world cup final loss. It decimated the same Indian team (5-0, not to mention an equal drubbing in the test rubber) without offering the gracious hosts even the smallest courtesy of a respectable loss. The same Kapil Dev, who proudly lifted the World Cup on the Lord's balcony a few months ago, lost the captaincy to Gavaskar after the dismal series, despite a stellar individual performance. England was next in line to avenge their semi final pound of flesh. They came, they saw, they pulpled. How a side that was so weak head to head against top sides at home suddenly transformed into world beaters in prestigious tournaments while playing away, is one for philosophers and deep thinkers. Strictly speaking, it that had one genuine allrounder of international caliber (batting, bowling and fielding) in Kapil and a bunch of middling to able performers (with the only other world class name, Gavaskar firing on and off, his mood swings notwithstanding), who were no match to the fiercest bowling ups that existed in that era, nor the obdurate batsmen who made hay against the bowling roster of gentle pacers and slow tweakers. And never was it more true than the (mini) World Cup held down under in 1985. The names Mohinder Amarnath, Madan Lal, Roger Binny, Vengsarkar, Ghulam Parkar, Surinder Khanna didn't exactly have the opposition quaking in their boots, yet this motley crew of merry men upset the well laid plans of top sides with the nonchalance and bravado reserved usually to stalwarts in supreme command of their craft. So what made this team tick?
In hindsight, this was the perfect "Moneyball" team, before that term and concept were even formalized a couple of decades later in a different sport on a different continent. Winning in shorter formats didn't require powerpacked performances of superstars in the team, the theory held. It was statistically proved that a bunch of average players, all playing to the best of their "average" (at that level) abilities, and consistently at that, would together somehow catapult the team into the top echelons in any tournament, and that's exactly what happened. The 20's and 30's, with a bit of a half century here and there, all added up to the necessary 200's and a couple of wickets each by the bunch of harmless bowlers tied up formidable oppisition in knots. This same strategy repeated itself over and over again and so was the winning story for those couple of years. That it all started with the 83 victory headed by the youngest captain to ever win a world cup with an attitude that rivalled the most effervescent froth of the most bubbly beverage, was just the cherry on top of an already incredible story that is yet to be repeated. Now India has it all, in terms of facilities, faculties, franchises and fraternities. It also has the richest board ever earning money in amounts unheard of in the sport. It has a bottomless talent pool throwing out talent players by the dozens every single year. But the team has still to match that magical period in the mid 80s, looking terrifying giants right in the eye and refusing to blink first. So why was 83 special, even when the Indian team scaled better and tougher heights in the subsequent decades? One answer, it is definitely not nostalgia.
Something has to be said about that period in the 80s. The new age words - growth, consumption, economy, inflation, disposable incomes etc - haven't entered the public lexicon yet. Any able body of reasonable age had only one thing to worry about, a job, and even that was hard to come by. Incomes were meager and there was hardly anything to spend it on too, other than the essentials. There wasn't much to go around, and the country barely scraped by. Televisions were a luxury, on par with a telephone connection. There were only a handful of sets per street and watching it was a communal experience, more popular than its theatrical counterpart. Middle class was a badge of honor and aspirations to rise to even that level were considered lofty. When a majority of society remained firmly grounded, the cricketers coming out of it could hardly be any different. Save for a Pataudi here, or some privileged son there, almost all of them came from humble homes. The character of P.R.Man Singh, the manager of the 83 team, captured the spirit of the 80s culture perfectly, which is one of constant worry - worrying about the next unforeseen expense, worrying how far he could stretch his shoestring budget, worrying about keeping his flock in check, worrying about the fate of his lambs thrown to the lions, in effect, worrying more and enjoying less, despite the stunning run in the tournament. This is the reason why the team of 83 together remains more beloved than any other in the following eras, because these were the true sons of soil, filled with all the fears, doubts, insecurities and complexes that come from being born and raised in such times, who nevertheless bonded together and did the unthinkable (not to mention, repeating the David-Goliath act as an encore against the daunting West Indies in the same tournament, once as an opening act, and other during the rousing finale). Call it fluke, call it luck, call it a fairy tale or by any other name, but 83 was Manifest Destiny, an inevitability that breeds only in such impossibility.
Kabir Khan's '83' is a worthy reportage of that eponymous period, and the one unforgettable sports event that transpired in that year. By sticking to the strong "middle class values" - the humbleness, the humility, the self-effacing, even the self-deprecating - he roots the movie firmly in reality without letting it carried by the (current age) jingoism and patriotic bluster. There is adversity, but there are no villains, there is fighting spirit, but none of the fights are personal, there is attitude, but not the brag/swag kind. '83' in effect could not be more 'desi', the Indian-ness found in dusty streets and crowded spaces. And Ranveer Singh doesn't play Kapil Dev, he simply becomes Dev. Kudos to Kabir for getting everything right, down to that characteristic run of Jimmy Amarnath.