Super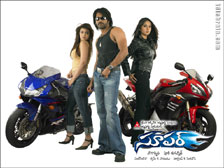 I am a die hard fan of NAG from past 19 years. I am a fan to NAG as NAG but not as ANR's SON. But at the same time I am not a fan to tell whatever he does is SUPER.
I was very much excited about this movie. The reasons for more excitement is the hype created by media and NAGARJUNA .
Following are my views:-
NAGARJUNA's entrance was superb with trendy bike. I was really shocked to see him on the big screen with his trendy hair and bike. No other word about his style and charm. Finally he is our ONE & ONLY NAGARJUNA. As we move on to story line, as told by NAG story line is very thin and not so new. It is a routine story.
In the first half establishment of love between NAG and AYESHA is OK. They both make a good pair. Comedy scenes between them are OK. Also comedy scenes between ALI & BRAHMANANDAM are OK. On whole first half is average with cute looks of NAG and AYESHA with super songs and comedy.
The 2nd half begins with flash back story between NAG /SONU/ANUSHKU. Though the concept of robbery is good, the way it was presented was not good. It looked like PURI was in a hurry while shooting for this robbery scene. The scene is like this... NAG/Anushka/SONU enters into the bank without any difficulties and they demand bank staff money without any timing. It was not convincing enough. Though the duo (hero and director) told us not to look into the logics, it was not convincing enough. The robbery was as simple as the movies of 70's/80's.
With respect to bike chasing there were no such specialized chasings. Only in the bank robbery, bike was used by NAG that to for a shorter period. As a Fan I was eagerly waiting for many scenes of bike chasings and robbery. But I waited till end of the movie nothing made me so excited about bikes (that to imported) . NAG/PURI would have taken care much on ROBBERY & BIKE CHASING.
The one and the only ultimate picturisation is CLIMAX. It was never shot earlier in Telugu films. It is a very rich climax with boat chasings etc. Thanks to Nag and Puri for bringing such a westernized style to Telugu movies. It is totally different and ultimate.
SUPER proves once again that NAG is a celluloid scientist but some more richness in the form of chasings & fights would have made this movie a super duper hit. For a normal man it may be good movie but as a fan I am not satisfied the way SUPER was picturized.
Even after spending so many crores the quality of outcome is not to the expected level. Presentation of some scenes like showing the IMPORTED BIKE/ROBBERY/CHASINGS was not up to the mark.
In spite of all these negative remarks if SUPER is set to be box office hit, I will be the first person to feel happy.
Through this session, I request NAGARJUNA to please take care for his next venture and feel his fans proud and I wish him for his forthcoming film SRI RAMADASU.
Thanking you,
S Sudhindra
Bangalore

More My Movie experiences:
Vijay - Aparichitudu
Madhav - Aparichitudu
Hazaraon Kwaishein Aisi
Swades
Shyam - Black
Sai - Anand
Rohit - Anand & Veer Zaara
Jaya Prakash - 7GBC
Raj - Anand
Purnesh - Anand
Purnesh - The Village
Sriram - Gudumba Shankar
Purnesh - Gharshana
Purnesh - Lakshya
Purnesh - Yuva
Leenesh - Yuva
Kis - Lakshmi Narasimha
Indian Pride - Tagore
Raj - Boys
Phani - Gangotri
Phani - Khadgam
Vikram - CKR
BKR - Indra (Singapore)
Ram - Indra (Dubai)
Ranjeet - Idiot
Rahul - Indra
King Koduri - Indra
Srilakshmi Katragadda - Mitr: My Friend