Story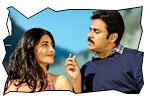 Katama Rayudu (Pawan Kalyan) is a good hearted man who does settlements for living. He has four younger brothers and believes that marriage will make relationships with brothers go sour. Hence, he doesn't want to get married. Two of his younger brothers fall in love. They plan to make Katama Rayudu fall in love so that there will not be any problems. Meanwhile, Katamarayudu starts developing soft corner for a classical dancer Maha Lakshmi (Shruti Haasan). Rest of the story is all about what happens when he decides to get rid of violence in his life.

Artists Performance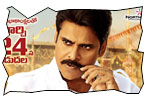 Pawan Kalyan: Pawan Kalyan who has done hip and youngster roles earlier has donned a big brother and a responsible character for the first time. Hence, he tamed his natural instincts and underplayed himself. This is probably his first village character as well. He looks proper and handsome. One scene that impressed me the most is the way he changed his expressions four times in a single shot when heroine asks him to talk to her personally for five minutes. You will end up getting a taste of Pawan Kayan which we haven't explored in the past.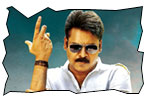 Others: Shruti Haasan is okay. Though starts in an irritating manner, the character of Rao Ramesh grows on you. It's probably one of the best characters in his career. He is a bad guy and he acts like a bad guy. But, ends up entertaining you. Ajay's character provides entertainment among roles of brothers. Siva Balaji, Kamal Kamaraju and Chaitanya Krishna are alright as siblings. Ali provides entertainment in his own inimitable style. Pruthvi is good.
Technical departments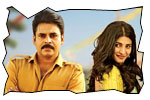 Story - screenplay - direction: Story of the film is in expected lines. The screenplay is in predictable format. The only twist in the film was already seen in Ready film. Director Dolly has given mass orientation for the movie. He has given beautiful characterizations for Pawan Kalyan and Rao Ramesh. Since it's a village subject and hero has violent orientation, director is forced to give B/C centers outlook for the film.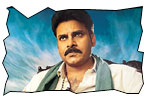 Other departments: Music of the film is average except for Laage Laage. Cinematography by Prasad Murella is good. Dialogues are alright. Art direction by Brahma Kadali is good. Editing is fine. Fights are good, but appear repetitive. Production values are decent.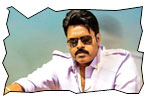 Analysis: First half of the film is decent as it has the fun part of hero who hates women falling in love. Second half should have been better. How many times we have seen hero going to heroine's place and stay there in second half. Plus points of the film are Pawan Kalyan and Rao Ramesh. On the flip side, age old story and predictable screenplay mars the freshness. On a whole, Katamarayudu is made for the masses.