Allari Pidugu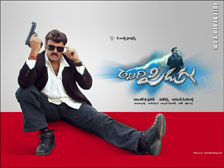 Hi All,
I'm a big fan of Yuvaratna Nandamuri BalaKrishna. I'm from Hindupur and I have been watching all his movies from my childhood. I recently watched his latest hit movie AllariPidugu and I'm delighted to see a good family oriented movie from my hero after some gap. Off late with the success of movies like SamaraSimhaReddy, NarasimhaNaidu, LakshmiNarasimha etc most of recent Balayya's movies are powerful emotional movies and this AllariPidugu was a welcome change which is a family oriented movie and it caters to all sections of audiences - both class and mass.
BalaKrishna looks very stylish and had perfectly blended the MASS style with Class touch. Thanks to Jayanth for showing NBK in a complete different style. Jayanth reminded the fans of his previous blockbuster LakshmiNarasimha with NBK. NBK was in complete form doing complete justice to two contrasting roles as Assistant commissioner of Police, Ranjith Kumar and carefree innocent Village guy, Giri. He excelled in both the roles and showed versatility and complete divergence in both the roles. While he looked Powerful and Stylish in the Police Character, he looked very innocent and carefree type in Giri's role. Normally powerful dialogues and powerful emotional roles are NBK's forte and in this movie, he went for a change and this movie didn't have lengthy dialogues. He played his part exceptionally well in both sentiment and comedy departments as well. NBK performed the comedy timing very well in some scenes, for instance - When he watches his brother receiving the medal in TV and also in his scenes with Raghu Babu in the second half.
The movie had good situational comedy, which can be enjoyed by the total family. The comedy track by RaghuBabu and Tanikella Bharani was well received by the audience.
The audio was a big hit even before the release and the songs looked more appealing when watched on the screen. The picturization was excellent and my favorite picks are "Chinukulaaga Kurise", "Nede Eenaade" and "Dikki Dikki" Song. The songs have a perfect blend of mass and Class touch. Both the heroines Katrina Kaif and Charme are a big asset to the film and both of them looked gorgeous and attractive and perfectly suited their roles. They successfully filled the glamour quotient of the film. The movie had rich production values and thanks to producer MRV Prasad for the lavish production values. The digital Color grading added lot of texture to the film and all the frames looked very appealing.
The movie didn't have unnecessary twists and flashback and is a cool family movie with nice songs, comedy and action. AllariPidugu is a stylishly made family entertainer. To enjoy watching a clean family entertainer with your family and friends, this is the movie for you and I'm going to watch it again for my hero's performance, songs, comedy and action.
Idlebrain is my favorite site and is my source of information for movies on the Internet and thanks a lot to Jeevi for giving me this opportunity. Good luck to Idlebrain and all movie lovers.
Yours Sincerely,
Srinath

More My Movie experiences:
Sudheer Allari Pidugu
Anu - Athadu
Shyam Krishna - Iqbal
Purnesh - Grahanam
Sudhindra - Super
Vijay - Aparichitudu
Madhav - Aparichitudu
Hazaraon Kwaishein Aisi
Swades
Shyam - Black
Sai - Anand
Rohit - Anand & Veer Zaara
Jaya Prakash - 7GBC
Raj - Anand
Purnesh - Anand
Purnesh - The Village
Sriram - Gudumba Shankar
Purnesh - Gharshana
Purnesh - Lakshya
Purnesh - Yuva
Leenesh - Yuva
Kis - Lakshmi Narasimha
Indian Pride - Tagore
Raj - Boys
Phani - Gangotri
Phani - Khadgam
Vikram - CKR
BKR - Indra (Singapore)
Ram - Indra (Dubai)
Ranjeet - Idiot
Rahul - Indra
King Koduri - Indra
Srilakshmi Katragadda - Mitr: My Friend