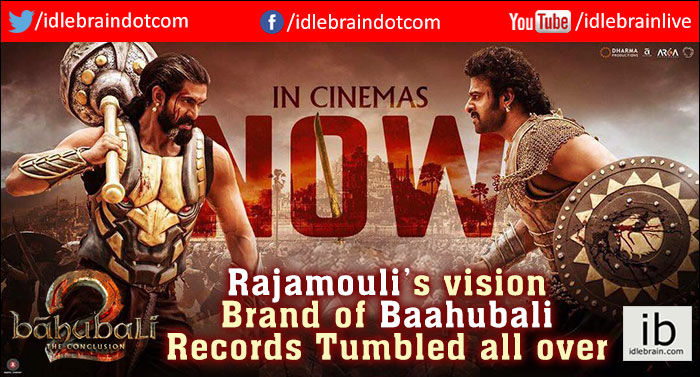 01 May 2015
Hyderabad
Bahubali 2 shakes box office worldwide
Rajamouli who has started as a regional director has given a taste of his work to India with Eega's Hindi dubbed version. But what he has created with Baahubali is a game changer. Bahubali - The Beginning has laid such an outstanding foundation for Bahubali franchise that the records starts tumbling all over the world.
A Hindi dubbed version of Telugu film emerges the biggest bollywood opener by squashing kingdom of Khans
All our Telugu (South Indian) movie lovers used to wonder at the way Khans dominate Bollywood box office and entered 100 crore club with almost all the films in recent time. Did any of us imagine in our wildest dreams that a Telugu film (rather a Hindi dubbed version of a Telugu film) will become the highest opening grosser in Bollywood? It happened. Thanks to the vision and craftsmanship of gutsy Rajamouli. With 128 crores collected in the 3 days weekend for Hindi version, Bahubali - The Conclusion became the number one weekend grosser followed by Dangal (107 cr) and Sultan (105.5 cr). It's an amazing feat!!
$10 Million dollars breached by 1st weekend in America
Great India Films have distributed Bahubali 2 for USA and Canada. This collection figure is for all three languages and for two counties of USA and Canada. Bahubali 2 has taken outstanding opening by collecting $4547K on Thursday premieres and Friday. On Saturday, it has collected $3490K and followed it up on Sunday with $2230K. There is an unreported figure of $150K from private screens. The total weekend collection is $10.49mil (INR 68crs+). Bahubali 2 has thus surpassed the total collections of Bahubali 1 by weekend. Another notable aspect is that it has emerged the 3rd biggest Indian hit in America. It will cross the total collection figure of Sultan ($10.56M) on Monday and will cross Dangal ($12.36) before next weekend. Among the weekend performers, Bahubali 2 is in 3rd position after Fast and Furious 8 ($19.4M in 3rd weekend) and How to be a Latin Lover ($12M in 1st weekend)
Biggest opener in UAE: 309,046 admissions sold in 3 days
UAE has it's own frenzy for fancy cars and motorsports. Hence, Fast and Furious 8 got to be the best grosser in UAE. Bahubali 2 has outsmarted such a huge Hollywood film as it has sold 309,046 admissions compared to Fast and Furious 8's 306,263 admissions. Bahubali 2 is expected to maintain the number one position in UAE in coming days as well. Just imagine a Telugu film and it's dubbed versions securing number one position by beating a Hollywood blockbuster in UAE. A major disadvantage for Baahubali 2 is that it's censored as 15+ (children below 15 are not allowed in theaters) where as Fast and Furious 8 is censored as PG15 (children upto 15 years old can watch the film with the company of elders). Phars Film that has been in business in UAE since 1964 has used all it's experience and contacts to make sure that Bahubali 2 has secured all the attention and records it rightly deserves.
The heat is on in Australia too
Bahubali 2 created record among Indian films by collecting A$855,614 for Hindi version and A$571,269 for all South Indian versions by the weekend. Bahubali 2 is among 3rd position in Australia weekend box office after Guardians of Galaxy 2 (8.6M) and Fast and Furious 8 (1.7M).
72 lakhs collected for weekend for Telugu version in Singapore
Telugu was a small release compared to Hindi and Tamil in Singapore. Telugu version was played in small theaters whereas Tamil and Hindi versions are played in mainstream theaters. Telugu version is priced at S$25 and Tamil/Hindi is priced at S$18. The main disadvantage for Baahubali is that it's rated NC16 (Not for children below 16 years old). Telugu version has collected Rs. 72 lakhs in 3 days which is highest for any Telugu cinema. Hindi and Tamil versions are doing huge business because of mainstream theaters and nationwide interest.
Baahubali 2 is creating 1000 crore club for Indian films soon
In Telugu states, Baahubali has created humongous record. In Tamilnadu, Karnataka and Kerala too it's doing exceptionally well. With such never heard numbers, Baahubali 2 is all set to be the Indian film to create 1000 crore club!!