Story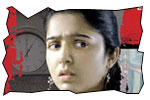 Manorama chat bhandar is a popular hangout place for Hyderabadis in Koti area. Geetanjali (Charmme) stays at an apartment that is just opposite to Manorama chat place. A stranger arrives at Manorama chat and plants his bag containing a time bomb. The bomb is supposed to blast at 1 pm and it fails to do so. There are chances that it may go off at any point of time. That is when that stranger sees Geetanjali at chat bhandar and develop soft corner for her. The rest of the story is all about the bomb and the relationship between the stranger and Geetanjali.
Artists Performance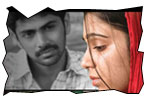 Charmme did a different role in this film. Her histrionics in the second half are worth commending. Newcomer Nishan is pretty confident. National award winning child actor Sai Kumar (Belly Full of Dreams fame) did the role of a servant in chat bhandar and he is very good. Dhanush and Pradeep (Radio Mirchi) are good in their roles. Lahari impresses with casual acting. Model Sridhar did a positive role. Ali and MS Narayana are uninteresting in this film. Srivastav (Hyderabad Nawabs fame) is mildly entertaining though he went overboard towards the end.
Technical departments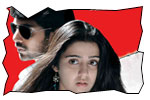 Story - screenplay - direction: Story of the film is humanistic. It preaches that love should overcome all the hatred developed by mankind due to various issues like religion and regionalism. The concept of Charmme watching Chat Bhandar and surroundings using a binocular from the window of her room and discovering that something is wrong reminds us of the Alfred Hitchcock's film 'Rear Window'. The entire Manorama chat bhandar set-up remind us of Gokul chat blasts that happened recently. The idea of animated 500 note is innovative and gives lot of relief. The dialogues written and dubbing done for the same is very good. Director Eeswar Reddy handled the first half smoothly. But he could not narrate the love angle convincingly in second half. He didn't do the characterization of Charmme character properly. We are supposed to be sympathetic about her character, but we end up becoming bored due to the excessive preaching. The second half drags and it needs some serious trimming. The story idea and the set up of plot are good. This kind of plot needs stylish execution and sophisticated treatment. But, Manorama film isn't treated with classy execution.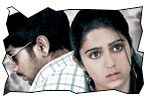 Other departments: Songs of the film are mediocre. One song is inspired from Bollywood flick Gangster (Bheegi Bheegi). Background music is adequate. Dialogues are neat. Cinematography by Jagan is average. Art direction by Ashok is authentic. Editing is fair.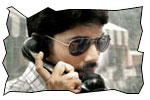 Analysis: First half of the film is nice. The second half drags. The plus points are plot idea and humanism. The negative points are slow second half and excessive preaching. It is a risky proposition to make a film with limited locations and with an idealistic story with hours of time-frame. Producer should be appreciated for it. On a whole, Manorama is not a bad film though a better handling of script would have made the film more interesting.
Manorama links
• Music launch
• Press meet 2
• Photo gallery
• Trailers
• Wallpapers
Jeevi reviews of previous 5 films
• Aakasamantha
• Sontha Vooru
• Malli Malli
• Mesthri
• Naa girlfriend baga rich
• Drona
• 16 Days
• Satyameva Jayathe
• Siddham
• Nenu Devudni
• Konchem Istam Konchem Kastam
• Shh...
• Arundhati

More Reviews