Story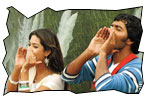 Abhi (Vinay) falls in love with Nandini (Meera Chopra) at the first sight in Hyderabad. Later he realizes that she is none but the daughter of their family friend in Anantagiri, a hill station. After meeting her, he realizes that she is about to get married in few days. Slowly she falls in love with him too. The rest of the story is all about whether he breaks the hearts of Nandini parents by eloping with her or not.
Artists Performance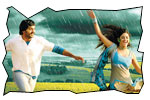 Vinay did well in the male lead role. He resembles Sivaji (if you don't consider height factor) a bit. The guy who dubs to Lawrence dubbed the voice of the vinay. Meera Chopra did well too. But these two leads does not possess the charm and charishma to carry the film on their shoulders (like Prabhas and Trisha in Varsham). Ajay is very good in negative role. Suman is good as the father of heroine. Jayasudha, Seetha and Naresh are adequate. Krishnudu suited the servant role. Dharmavarapu and MS Narayana were used in comedy roles.
Technical Departments: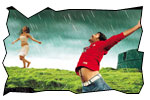 Story - screenplay - direction: Story of the film is very simple. One fails to understand why MS Raju remade a film with such simple story line. Screenplay of the film is inadequate. Narration is very slow. Characterization is inconsistent. There are some sparks in the direction. This film is mainly based on the feelings. Hence, it is very important to make the audiences feel the way director projected it on the screen. But when the theme of the film unappealing, it does not translate into good results.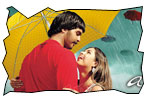 Other departments: Music of the film is good with nice picturization of songs. Cinematography by Sekhar V Joseph is excellent. The wall falls scene and the mid-road fight scene show the brilliance of the cinematographer. The locations are very good. Dialogues should have been better. The dialogue comparing marriage with land registration is very inappropriate. The only fight in this film is very well conceived. Editing is alright.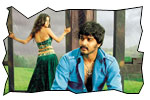 Analysis: First half of the film is goes without much content. Second half is too lengthy and the climax is unappealing. The plus points of the film are cinematography and locations. The negative points are slow narration and characterizations. A film like Nuvvu Naaku Nachav with similar story line is made in an entertaining way. Vaana is an example of making a film the other way round. On a whole, Vaana is an unappealing film.
Vaana links
• Photo gallery
• Music launch
• Press meet
• Wallpapers
• MS Raju chat
• US schedules
Jeevi reviews of previous 5 films
• Pourudu
• Krishna
• Mee Sreyobhilashi
• Anasuya
• Mantra
• Seema Sastri
More Reviews