Story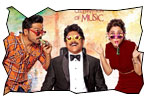 Vikramaditya (Nagarjuna) is a wealthy quadriplegic who feels sad and lonely despite having everything in life. Seenu (Karthi) releases from jail on parole. His mother disowns him as she feels he is a bad influence for other kids in her lower middle class family. Vikramaditya selects Karthi as his help. Vikramaditya is ultra class with a refined taste. Seenu is highly mass who just does things he like without thinking. Rest of the story is about the camaraderie between them and how they solve each other's problems.

Artists Performance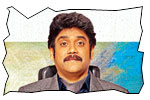 Nagarjuna Akkineni: A human being expresses his feelings and emotions through entire body. Hands play an important role in conversations. Nagarjuna Akkineni has done the best work of his career with the character of Vikramaditya, a person whose body is paralyzed below his neck. He has to get all emotions expressed through his eyes, face and voice. The intensity in his voice during Paris race episode is an example of his acting. Being a frontline mainstream star of Telugu cinema, Nagarjuna has risked by doing this character and he will end up gaining more respect from Telugu movie lovers. Nagarjuna probably is the only star in Telugu cinema who doesn't care about so-called image/trend/commercial-constraints to do films like these and change the course of Telugu cinema.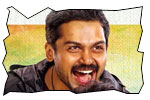 Karthi: I was skeptical about casting of Karthi and thought that he was cast because PVP wanted a bilingual. Karthi proved me wrong with his terrific work. He epitomizes the Awara character with perfect body language. His dubbing in Telugu is also perfectly suited the role. The innocence in his looks and mass appeal in his demeanor is a lethal combination on screen. It worked perfectly well for the character of Seenu.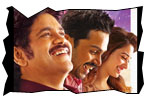 Others: Tamanna is excellent in the role of secretary and her dubbing is good. Jayasudha is aptly cast as mother and she is at her best. Prakash Raj is nice as a well wisher of Nag and he creates good fun in Karthi combination scenes. Shriya has just two scenes and she is gorgeous. Anushka appears as an old flame of Nag. Late Kalpana, Tanikella Bharani and Ali has justified their roles. South African model Gabriella Demetriades plays a Paris based cameo. Nora Fatehi sizzled in an item song.

Technical departments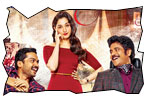 Story - screenplay - direction: This film is an official remake of French film 'The Intouchables'. I have watched The Intouchables twice. Vamsi has adapted The Intouchables to Telugu nativity exceptionally well. He has brought in much required human drama with elaborate background stories for Nag and Karthi. 90% of the original was covered in the first half. It made me wonder how the director would take the story forward for the remaining half. The Paris episode where Nagarjuna rediscovers himself and the following episodes where Karthi connects with his family are beautifully written. Nowhere in the film, you will feel out of context though Vamsi has maintained the uber rich texture to his narration. Vamsi Paidipally has gone beyond the league of commercially successful directors and entered into an elite league where different content guarantees money.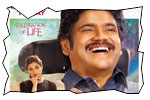 Other departments: Background music by Gopi Sundar is outstanding. Okka Life song is exceptionally good. Cinematography by PS Vinod is of international standards. The way he captured Paris and Nag's residence is superb. Dialogues by Abburi Ravi are simple and effective. They are an asset to the movie. Production design is exceptionally good. Editing by Madhu is nice. Producer PVP deserves a big round of applause for backing up such a risky project and delivering it with such a finesse.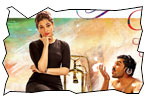 Analysis: Oopiri is a film that's extremely difficult to execute in Telugu. The team of Vamsi Paidipally, Nagarjuna and PVP (key decision makers of this project) have trusted it and went on to make it with full conviction. Not even a single unrelated scene was shot to satisfy the so-called commercial movie lovers. This film is little lengthy and second half appears a bit slow. But, that doesn't take away anything from the emotional journey we experience through the film. On a whole, Oopiri is a thoroughly enjoyable emotional ride. Go for it!!