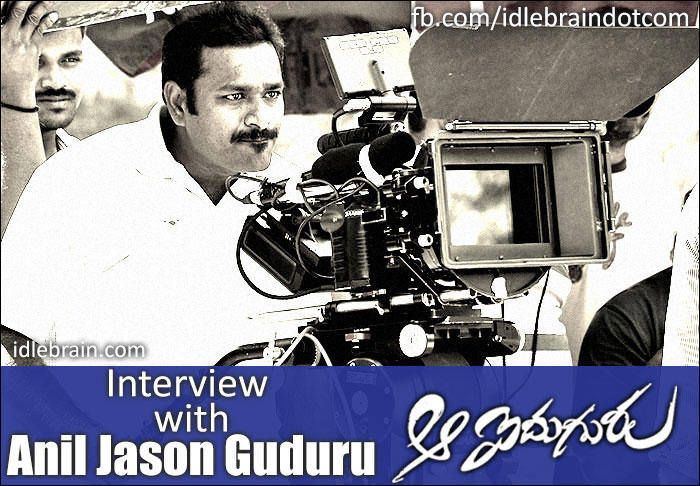 02 July 2014
Hyderabad
Anil Jason Guduru has tried a realistic subject like Aa Aiduguru when every other director is going for entertainment-oriented movies. This film is produced by Prema Patra whose films Aa Naluguru and Vinyakudu won Nandi Awards. Aa Aiduguru is releasing on 4 July. Here are excerpts of an interview with the director Anil -
Background:

I am basically from Guntur and completed my Mechanical Engineering from Andhra University, Vizag. My father is in army and my parents wanted me to go for further studies, but I am fascinated by movies. My friend Arvind Joshua is a costume designer for Sekhar Kammula's movies. I came to Hyderabad and started living with him. Cinematographer PG Vinda is also our roommate. I wanted to get trained in Film and Television institute of India, Pune and applied for it. I got orientation for 15 days and didn't qualify for it in interview. I came back and started working in films. My first film was a children film titled 'Hero' which is directed by Sunil Kumar Reddy. Since its a small film with limited resources, I have got opportunity to do multiple roles behind the screen. I have also worked for Sunil Kumar Reddy's next film Megham which was produced by Prem Patra. Then I was the co-director of Vinayakudu which is also produced by Prem Patra. I was instrumental doing the screenplay treatment for that movie.
I had always wanted to do a sensible and righteous film since the beginning. I was infused with patriotism as my father is from army background. I used to attend military base camps in Kashmir when I was a student. The success of Vinayakudu has proved that a sensible and different can work at box office. With that confidence, I have prepared the script of Aa Aiduguru.
Story idea:
I am inspired by Jaya Prakash Narayan and tried to envision what happens if JP becomes the chief minister. I have used the characterizations and quotations from greats like Vivekananda, Subhash Chandrabose and Che Guevera. The name of CM's character if Raghuram and he is an IPS officer turned politician. He creates something called 'Next Generation Force'. It's a pilot project which if successful will aim at passing an ordinance which makes it compulsory for one person per family to get trained for police force. The pilot project consists of 40 members. The idea is to immunize them and send them back as peaceful soldiers for a better society.
Trained in APPA (AP Police Academy)
I wanted this film to bear realistic setup. Hence I narrated the story to Sri Nanduri Sambasiva Rao (Director of APPA at that time) and took his permission to get our leads trained. He also gave his staff and resources for us to get trained in APPA for 30 days. The five leads, Venkat and bad boy got a proper training in APPA. I was also there throughout to make sure that the actors attended it. We shot the film in APPA premises for 30 days after training is over. During the shoot Venkat has got injured and took bed rest for a couple of months. We have also used original rifles in the movie.
Casting:
We have casted relatively new faces for the five leads. Kranthichand, Tanishq Reddy, Kranthi Kumar, Krishna Teja and Sashi Racha played five main leads. Venkat did the role of training officer. Vasu played CM. Asmita Sood, Alekhya, Maheswari, Preeti Rana, Aslesha and Ritya Perera did female leads. Nagineedu, Posani Krishna Murali and Babu Mohan are the baddies in the movie. Producer Prem Patra has also done a special character.
Technicians:
Mantra Anand has scored music. PG Vinda handled cinematography. Suddhala Ashok Teja penned all songs and dialogues. This is his debut in dialogue department. Marthand K Venkatesh edited the movie. This is the first movie for choreographer Satish who is credited with single card.
Two and half hours film:
The total runtime is 2 and half hours. This film has obtained U/A certificate from censor board. This film is shot in 60 working days. There will be four songs out of which 3 are situational.
Gut feel about the film:
I am a fan of directors like Akira Kurosawa, Raj Kapoor, Dasari and K Balachandar. When I went to meet JP with the storyline, he suggested that the film directors are showing the problems in system, but not attempting to give a solution. He asked me to come up with a solution. I tried giving a solution and hope that it will attract the youth!