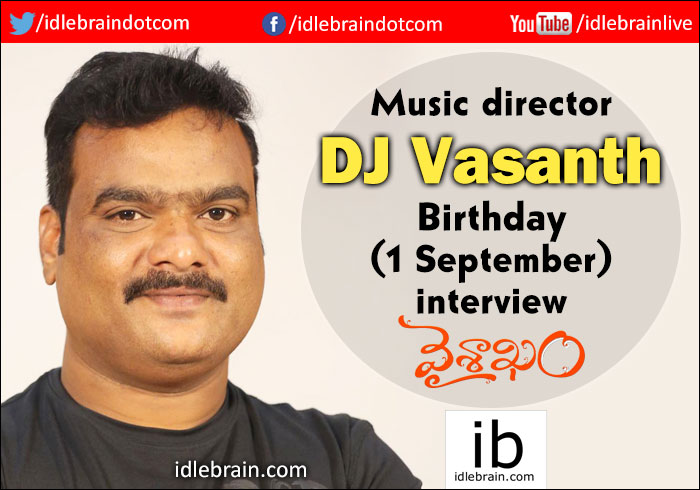 1 September 2016
Hyderabad
DJ Vasanth who rose to fame with the film Sudigadu is the grandson of popular veteran music director Satyam. He worked as an assistant under many noted composers before making his debut with Madata Kaja. He recently composed music for Speedunnodu and is currently busy working on Vaisakam directed by Dynamic Lady Director B Jaya and produced by BA Raju on RJ Cinemas banner. Apart from these, he is also busy with six more projects that are at various stages of production. As DJ Vasanth celebrates his birthday, he had a chit chat with the scribes. Here are the excerpts.
What is the birthday special this year?
I am very happy this year for my birthday, which is special. I am very happy because I have lots of offers and they are all going to be on sets this year. I wanted to share this happiness with you all. This year special birthday gift is the film Vaisakam. The film is directed by B Jaya madam and produced by BA Raju. Music for the film has come out really well. Usually, any film has two or three good songs but in Vaisakam al songs have come out well. Entire credit goes to Director Jaya who extracted good tunes from me. Audio will be a big hit and will be very helpful for my career.
How long have you been in the industry? Who is your inspiration?
I have completed 16 years in the industry. My grandfather is my inspiration to come to the industry. I have worked as an assistant and composing assistant for many big composers like Sri Garu, Mani Sharma Garu, Harris Jayaraj Garu, RP Patnaik Garu. I have also written lyrics for few songs in the beginning.
What did you learn for Satyam Garu?
There are no big films and small films, all films are same before the release and needs to be given hundred percent effort. This is my biggest learning. Also musically I loved the Dhol beats in grandfather's song. He used to say even melody songs needs to have a beat and I try to incorporate this in my songs.
Who are you more comfortable with, small or big producers?
A producer is a producer, there are no big and small ones. Whatever be the budget I believe that good output can be given without compromising on the quality. I maintain that quality irrespective of the budget of the film. So whoever may be the producer my efforts are going to be same.
Melody and Beat – which one you give more importance?
More than melody and beat I give more importance to story and director. Whatever the story and director demands I try my best to deliver without compromising in quality or pointing budget issues. I don't try to force my feelings onto them, I only deliver to the maximum ability what the director asks for.
How are songs in Vaisakam shaping up?
I wouldn't have said Vaisakam is the gift for my birthday if I wasn't confident on it. All songs have come out well. I could give such good songs only due to the freedom given by Jaya madam. I have already seen picturization of three songs and it has further increased my confidence. The songs have to be shot with as much love as they have been composed. Jaya Madam has shot the songs with same love. Credits also should be given to producer BA Raju Garu for the support. For any film producer comes first and then everyone else. Vaisakam was started as a small film and today it has become a very big project. This film will be a great help to my career.
All the films of Director Jaya have been musical hits so far. What special care has been taken to continue the super hit form?
All the previous films of Jaya Madam like Premalo Pavani Kalyan, Chantigadu and the last release Lovely were big musical successes. To pick me as music director for a film that comes as follow up to these big musical hits is a great blessing for me. Furthermore, Jaya Madam said that Vaisakam has better audio than all those previous films she has done and that she is very happy with it. Those words made my day, what more can I ask for.
Which song will be highlight in Vaisakam?
All the songs in the film are good like I have said previously. However, still the love for melody is bigger for me, so I'll pick the two beautiful melodies in the film. They have been shot extremely well too. In the three songs that I have seen, you will see the locations that were previously not seen anywhere. They are all fresh locations.
7/G Brindavan Colony which came in apartment's backdrop was a super hit musically. So will be Vaisakam musically?
I would not like to compare one music album with other. One can find this better and someone else can find that better, its subjective. But what I can guarantee is that I have put all my efforts in this album. Though both films share the same backdrop there is no similarity between the two films. This is a different film altogether. It gives a nice message to the audience. Definitely, Madam has been successful in imparting that message and I am sure that Jaya Madam will make everyone associated with the film also a big success.
What are your next projects?
I am composing music for Manchu Manoj's next film made in the direction of Sathya. Also, there is a film directed by E Sattibabu for producer KK Radha Mohan Garu. I have a good association with Allari Naresh Garu. I made my musical debut with his film. My biggest success was again his film Sudigadu which was a remake. I couldn't work with him again after that but now I have got a chance. I have been roped in for his new film which is a remake of Malayalam film Oru Vadakkan Selfie. Apart from these films, there are three more films said the music director and concluded.