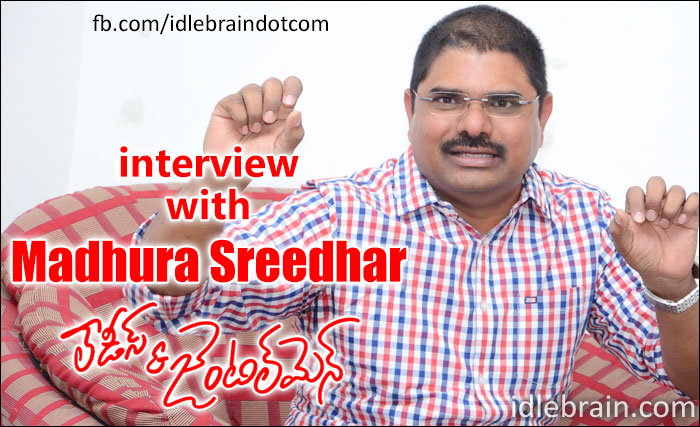 28 January 2015
Hyderabad
Madhura Sreedhar Reddy has six films to his credit so far. Four as director and two as producer. He is working with the same enthusiasm and verve despite not tasting commercial success. His latest production Ladies and Gentlemen is releasing on 30 of this month. Here are the excerpts of an exclusive interview -
Maaya had a pretty good story. What went wrong with the movie at box office?
It's a mystery for me. The last 30 minutes of the film is superb. But the rest of the film is sluggish. May be, the audiences didn't want to wait for such a long time for the climax twist. Maaya has generated excellents TRPs when aired on TV. Mahesh Bhatt remaking Maaya as Murder 4 is a testament that it's a nice movie, but didn't work in Telugu.
Tell us about Ladies and Gentlemen?
I had always wanted to do Bollywood kind of slick concept films. That's the reason why I got associated with Prema Ishq Kaadhal earlier. It's a multiplex film with three different stories running simultaneously. Sanjeev Reddy - a member of my directorial team has come up with the story and Manjunath - another member of my team is making his debut as director.
Ladies and Gentlemen talks about the perils of social media. This film also sheds light on cybercrime activities. Burra Katha performed by Raghu Kunche has got good response when we released the video long back. It was meant for the promotional purpose at that time. Now, we added it as the background song for titles of the movie in the beginning.
There are seven main leads in the movie. There is a student couple, a wife and a husband and an actress. One man is looking for money, another couple for happiness and third one for friendship.
Tell us about the economics of the movie?
We have spent around 1.5 cr rupees for the movie. We are spending around 40 lacs for the publicity. We have shot the movie in 44 working days. Runtime of the movie is going to be 1 hour and 55 minutes.
Are there any shocking/bold moments in the movie?
Yes. The story of the film is based on real life incidents. There will be bold and debatable episodes. The climax is going to be a hard hitting one.
Tell us about your next movie?
My next project as producer is going to be Om Mangalam Mangalam. It's a thriller to be made in a small budget. Sanjeev Reddy who gave story for Ladies and Gentlemen is going to direct this movie. We have conducted a star hunt for this movie and we are on the verge of finalizing the leads. OMM will go to floors in a couple of weeks.
Looks like your mentoring and producing films than directing them?
Mentoring is a process I enjoy a lot. I am a kind of guy who derives happiness in giving and helping others. I had been guiding aspiring students and unemployed to get jobs and make a good career since my Infosys days. It's a very difficult thing to survive in film industry without delivering a commercial hit for such a long time. But, I am fortunate enough to get good team and a good investor.
Tell us about Dr. MVK Reddy who has been your producer for a long time?
Initially we had a 3 movie contract. He is a nice gentleman and trusts me. OMM is his sixth film in our association. We find very rare people like Dr. MVK Reddy in this commercial world. I made sure that all these movies were made in minimal budget and promoted them at minimal cost. I want to thank him for traveling with me.
How important is Ladies and Gentlemen's success to you?
I am at a critical phase of my career and the success of LnG will make or break my career. I am pinning my hopes on the success of this movie.
What's your next directorial project?
I am going to do a film with Sreesanth as hero. This film has betting backdrop. It's going to be a love story between a cricketer and an actress (like Virat and Anushka). Title of the movie will be announced soon.