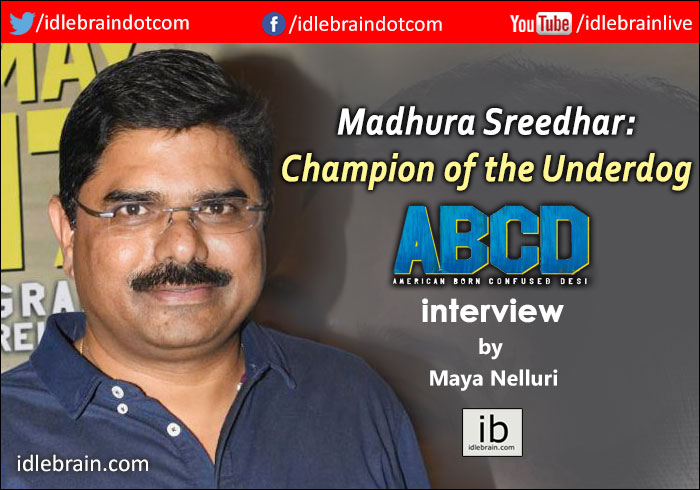 18 May 2019
Hyderabad
Madhura Sreedhar is a name synonymous with quality films. He is the director- producer with a single minded focus on making good cinema. Not just that, he has been a champion of many underdogs and helped several talented individuals debut into Tollywood. Now with ABCD, another upcoming film Dorasani, and more in the pipeline, he's gearing up for a happening 2019. Read on to find out what drives him.
Tell us about ABCD
It's a simple, sweet film whose story takes a 360 degree approach. The way it starts and ends with entertainment is impressive. What attracted me to this script is the fun and emotion it has. We did a very honest movie and I feel it's going to be a summer entertainer. After F2 there's been no such entertaining film, and I'm sure that ABCD will give that kind of entertainment. I'm just hoping for the best.
What type of films do you get attracted to?
I like concept based, real life inspired stories.
There's a rumour that there were two different directors for ABCD, is that true?
That's a rumour. For screen play we took four to five people's help. For example we took the help of directors BVS Ravi, Krishna Chaitanya, Pavan Sadineni, Vasu Varma. We wanted to validate our version of the Malayalam remake because we took the soul of the film but made a lot of changes.
Why did you shift from direction to production?
I wouldn't call it a shift. The only thing was that I couldn't zero in on a story that could excite me in these past four years. I have two-three concepts in mind but I got quite busy with production. As a producer and film maker I'm enjoying it. Because I've directed before I'm able to have a proper grip on the whole film making process. Take for example Karan Johar who directs every couple of years but mainly focuses on production. As a producer you can bring many films to light at once but as a director you have to be focused on one project which is all consuming.
Will you be directing in the future?
Yes, I'm working two concepts which I liked but those are very small movies. I might produce big movies but coming to directing I'll only do concept based small films.
You have a reputation for encouraging new directors and talent, what prompted you to take that on?
For star films, the stars are the main strength but for non-starrer movies the strength is in their stories. I'm a pure lover of cinema so I've always wanted to support good scripts and take them to the next level.
Your films have done well but there's yet to be a blockbuster, so is it difficult to keep up the producing momentum?
Blockbuster will happen at some point but my main intention has always been to make good films. I have to say that if we make movies with the right proportions, the movie business is really good. The only thing is to have a long term vision and to make films sincerely. Sometimes it might not work out but my motto has always been to select good scripts and make good movies. And I'll continue to do that.
You've got quite a few films in the line up, can you tell us about them?
Yes, right after ABCD we have another film coming up titled Dorasani. It's pre-look will be released on 20th and first look on 21st. In this also I'm introducing new actors, Anand Devarakonda, Vijay Devarakonda's brother, and Sivathmika, Jeevitha and Rajasekhar's second daughter. Everyone's done a fantastic job on it and it's scheduled to be released on July 5th. Apart from this we are also working on a couple of other projects.
- Maya Nelluri
PS: This interview was done before the release of ABCD