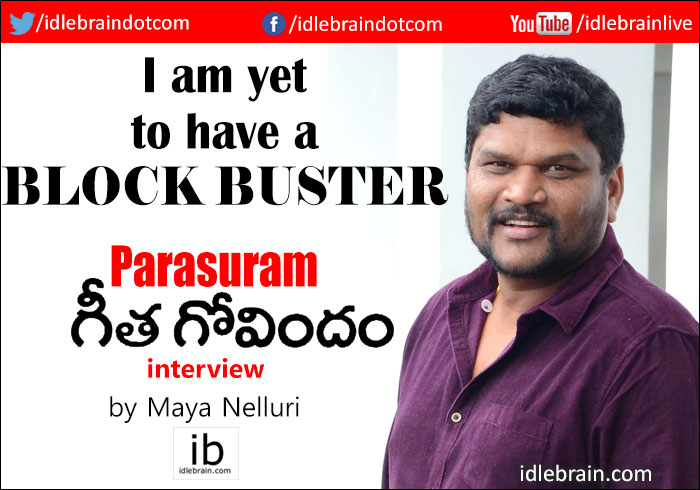 14 August 2018
Hyderabad
With Geetha Govindam at the forefront of everyone's mind, we speak to it's director Parasuram, affectionately known as Bujji.
What is your process while choosing projects?
My working style is quite different. I'm largely inspired by real life, either my own or those close to me. From those experiences if I find that something might work, I use it. Take my films Solo or Yuvatha; they were born out of life that I've witnessed.
It seems that you took a break for a couple of years prior to Srirastu Subhamastu. Why?
*Laughs* I dint decide on that actually. Geetha Govindam is my sixth film so if you look back at my career you'll find that Yuvatha hit was a hit, Anjaneyulu did well, Solo was a totally different film. Then Sarrocharu happened quite suddenly. I was working with Raviteja sir as a writer and during one of our discussions I told him the line for the film and he wanted to work on it. At the time he was working non-stop so there was no time to work on the details of the script so it shaped out badly. As you know with the film industry there are a lot of things involved with making a film, the biggest factor being money. Cinema doesn't just work on personal relationships. In general, be it me or another director, if there's no hit in your kitty you can expect a gap in the career. But during those couple of years I worked on a few scripts and they are the ones I'm doing now.
What was your favourite project so far?
This is a regular answer but I like all my projects because as humans we are attached to our projects. Also with each film I am satisfied about what I was able to deliver to the audience. And all the films I worked on were very different from each other. But as I mentioned earlier, although almost all my films did well, I'm yet to have a blockbuster. And I'm sure that I will get that with Geetha Govindam, be it economics wise or critics reviews. Till date I feel that this is my best work.
Geetha Govindam looks like a fun script – tell us about it.
The highlight of this film is the characterization of the protagonists and also the chemistry that Vijay and Rashmika share. Every girl and boy will want that kind of a girl or boy in their life. We made the film entertaining and romantic.
What particularly do you think will work for the film?
The story is itself very good so people will connect to it. And as I mentioned the characterisations of the protagonists are really relatable. Both our hero and heroine have equal importance and they carry the film, it's been a while since something like this has come out in Telugu. Also there is the music from Gopi and our DOP Mani who've really brought out the film.
There were rumours that a chunk of the film was reshot. Any comments about it?
I have to say here that reshooting is not a big crime or mistake. *Laughs* Even when we get ready to go to marriage, once we are ready and we look at mirror we tend to change few things before heading out. Coming to Geetha Govindam, this was a project that Vijay and me decided to do after Pelli Choopulu. Then Arjun Reddy happened. This is also a love story but of a different kind entirely. I have to mention here that even after Arjun Reddy Vijay never talked about his fame or what his fans would want and so on. He didn't interfere with anything. So it wasn't that we reshot because of Arjun Reddy. There was an eight month delay because we hadn't found the right heroine. I told the story to 25 different actresses but they were apprehensive about working with Vijay only after Pelli Choopulu. We did reshoot a little but that was because the scenes hadn't come out how we imagined. It was basically patch work.
It is unfortunate that there were some clips leaked from the film. How did u feel when that happened?
Forget about my movie, but regardless of who it happens to, it's horrible. Allu Arvind sir has the contacts to handle this but what about the new people. Imagine a mother who's carried a child for nine months. How would it be if you cut the baby out lifeless and take selfies with it. How cruel is it? I feel this is a similar pain for me.
Regardless of how big the movie is before it goes to shoot a director has to narrate it about 100 times to 100 different people. Imagine that for the past 50 days im barely sleeping. It's my movie so I'm happy to do that but the people wanting to leak the movie should realise that it decides so many people's lives. If something happens to the movie then the crew and my family will also suffer. They should be able to see how it affects people, they are playing with lives. These were just students trying to impress their friends.
At Geetha Arts everything is protected but almost all of tollywood's rushes are stored in one place so that is where the leak happened. I was of course worried when I came to know. The Telangana and AP DGPs supported us a lot and within two hours they arrested 17 students that were involved. Then they revealed the name of the main culprit. Now all the links are being blocked.
This is Vijay's most awaited film since Arjun Reddy but he seems to be playing a totally subdued character. How do you feel the audience will take it?
Arjun Reddy's hit and Vijay's following accounts for 50% of the buzz but there was also a lot of buzz from the Inkem Inkem song and the visuals we released. 40 million views 450k likes is a record. And regardless of the craze of the star if the product is bad then people wont like it. This movie will work because of a lot of things and the contrast in his charecterisation is also a good thing.
What future projects have you got planned?
I've got three - four ideas. After the release I will work on them. For now I just want to tell the audiences to watch Geetha Govindam and encourage our sincere effort.

- Maya Nelluri