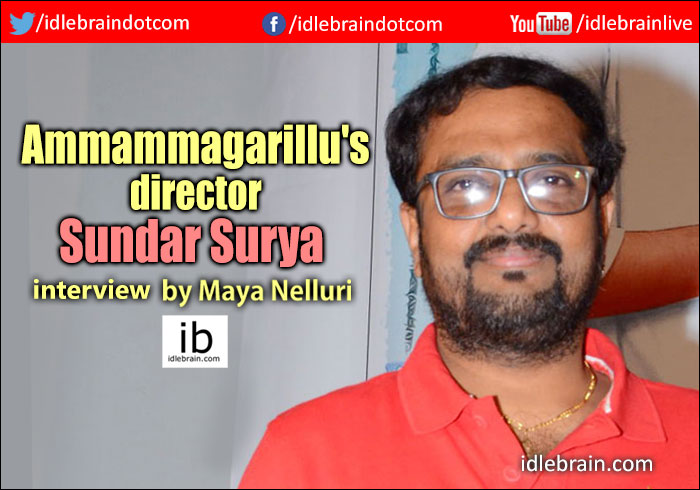 22 May 2018
Hyderabad
Director Sundar Surya's first film Ammammagarillu starring an impressive cast including Naga Sourya is about to release this Friday. We get to talking about the man's journey in the film industry and what made him debut with what looks like a classic, lovable, family drama.
Tell us about yourself.
I'm from Kakinada. After I completed my Post Graduate I shifted to software. I worked for two years before I quit. It was my childhood dream to work in films and I was very passionate about cinema. Since then I've been working as an Assistant and Associate Director for over ten years in Dil Raju sir's banner and with Bommarillu Bhaskar.
Why did you wait until you finished your PG and worked two years before entering the film industry?
Education is necessary. It's not advisable to enter a creative field like the film industry without a degree. There were of course objections from my family when I wanted to join films but I convinced them and now they are really happy with the way things have gone. There's also societal pressures standing in the way of entering films but in the end society should be left out of the thought process. We will only be truly satisfied if we do what we love.
How did Ammammagarillu come about?
Every filmmaker goes through a similar process, working on the script, taking appointments with the actors/ producers, narrating, and so forth; some projects materialise and others fall through the cracks. Each person's specifics struggles and crises might be different but they always show up, at some time or another in one's career. My process began ten years ago and I told our producers this particular story four years ago. The producers of the film are brothers, they listened, loved it and we eventually started preproduction almost two years ago. Shoot began eight months ago. I chose to debut with a family drama because I believe it draws out a rainbow of emotions – much more compared to other genres, and emotions make for a good movie.
Why did you choose Naga Sourya for the film?
We have so many heroes in the industry but this script and character only suits someone like him. When I wrote the script also both I and my producers had him in mind. Once it was done, I went and narrated the story to him and he immediately accepted it. It will be quite interesting because he's not done anything like this in his career.
Speaking of casting I have to say that every individual in the film was cast according to the characterisations in the script. And everyone has done 100% justice to their roles and I'm totally satisfied with the outcome.
What do you think will work for this film?
We've got a huge and impressive cast which hasn't happened as much in recent times. I think it is definitely a USP. As for the script, our film is from the hero's point of view. The soul and spirit of story is a very human subject carried by our protagonist - Santosh. We naturally expect different things from different people. In this film we discuss what life would be like if instead of thinking about what someone can do for us, we think about what we can do for others. The name Santosh is also chosen to represent just that – joy.
Do you have any advice for upcoming directors?
Everyone needs to update themselves in the creative field; otherwise we become obsolete. The other important thing is to apply what we've learnt.
What are your plans for the future?
Professionally everyone knows that the future depends on success. So even though I have scripts of multiple genres, I have to wait for the release.
Personally I'm thinking of going to athagarillu after ammammagarillu. *Laughs* There's no set plans as yet but everyone should get married so I guess that is on the cards.
- Maya Nelluri