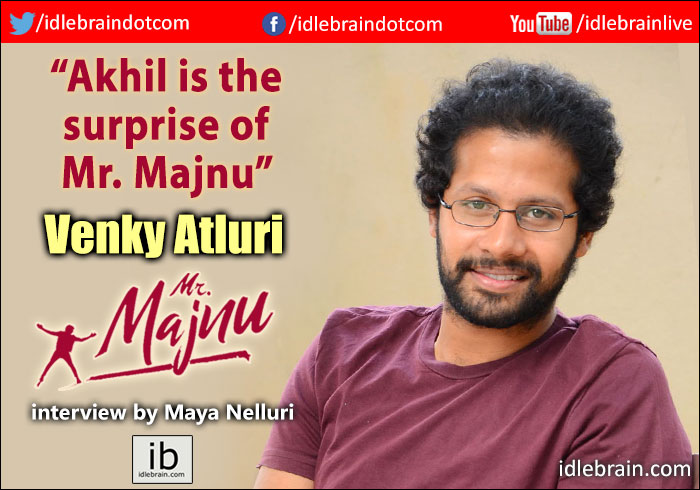 25 January 2018
Hyderabad
Venky Atluri of Tholi Prema fame is ready for his next - Mr. Majnu, to take centre stage tomorrow. Having debuted as a hero over a decade ago, he's come a long way from being in front of the screen to making his mark as a film maker. Read on to find out about his twelve years in the industry.

Were you always dreaming of a career in films?
It happened all of a sudden. When I was younger I was passionate about and mesmerised by films; but I didn't know exactly how I would fit into the industry or which aspect I was most interested in. When I was doing my BTech, at the time I didn't realise that's what they were called, but I would make memes about our lecturers. I used to write stories around their characters just for fun. You know how it is to be a student. We would hold grudges on the lecturers who wouldn't give us attendance or good grades. We of course got over it after college but at the time that's how I dealt with my grudges. *Laughs*

None of my immediate family is in the films but KL Narayan garu is my uncle. We would go to watch his movies so during one such time cameraman Gopal Reddy garu said, 'why don't u start acting?' When I shared that idea with my father, he wasn't open to it. He was apprehensive because we did not have any lineage in the industry and trying to make something from scratch is not easy here. But I was barely 20 then and 20 year olds don't think like that. I thought life would turn out like a cinema song where at the beginning you are poor and at the end you end up rich. *Laughs* My song took 12 years but I ended up with something I really liked!

So you started your career as a lead actor!
Acting was triggered because others told me I could make it as an actor. That was my encouragement and push. My first movie was Gnapakam in 2007 which not many people know about. It was a big disaster. After that film my dad told me to get out of movies, not because it bombed but because I couldn't act. *Laughs* Still, I didn't want to give up. I tried to improve and when I met Madhura Sreedhar garu, he really liked me. That's when Snehageetham happened. I got a decent name through that film. I also wrote the dialogues for that movie and began to think of it as a career option. After that I did a short film called Vadha for which I actually got a lot of critical acclaim. Then I approached Usha Kiran movies for a movie opportunity as a director. That's when Sudhakar garu, the person heading Usha Mayuri's distribution, gave me an important piece of advice. He asked me to choose between acting and directing. He told me not to club the two because it's not a fairytale. By this time I was 26-27; I just thought for half hour and decided that direction was for me. But as they say the universe tests you. On the same day I decided to stick with directing I got three offers to act; and this was a full year after I was waiting for a good role. *Laughs*

But you decided not to take those roles?
Yes, I told them I don't want to act anymore. I gave myself three years, basically till I turn 30 to direct.

How did direction happen?
I approached other producers after that and went on to write for Madhura Sreedhar garu for It's My Love Story. Dil Raju garu watched the film because he was interested in distributing it. He was really impressed with the dialogues so he put me on to Keerintha movie. At that time I told him the story of Mr. Majnu. He loved the subject but he wasn't confident enough to invest on it at the time. But after travelling with him for six months I narrated the story of Tholi Prema to him, which he also loved. Considering the cuteness of the story he said that's the story I should make at my age. He said once Tholi Prema is done we could work on Mr. Majnu because it's a more mature story. I went with what he suggested and planed my work in the same order. If you look at it writing wise Mr. Majnu happened earlier.

So did you direct within those three years you gave yourself?
*Laughs* The three years turned into six-seven years. I became director at 34 so it didn't go exactly as planned but there are no complaints.

Did you expect your debut Tholi Prema to do as well as it did?
In terms of the numbers I don't want to get into it. Once you get into the numbers I feel that you lose the creative part. I definitely wanted it to be successful and I'm very glad that my producer was really happy. I want it to happen again with Mr. Majnu. For as long as I can remember I've been an Akkineni fan; I'm a massive fan of Nag sir and Nageshwar Rao garu. From the moment I wrote the script I wanted to make it with an Akkineni. Because of this and many more reasons this film is quite close to my heart. There are a lot of emotions connected with this film so I hope that it will be well appreciated.

How was it working with Akhil? Was it everything you imagined it to be working with an Akkineni?
Akhil has been a friend for at least 10 years now; but professionally for three to four years. So it wasn't like babu ready ayyara or sir ready ah. I had that lenience and comfort with him so it was like friends or brothers working together.

What's going to be the surprise in this film?
Akhil. Going by the teaser or first look people may think it's a playboy role where he sleeps with random chicks. That's only in the first 20 minutes; where the story touches on the naughty side of his character. After that the movie is about the bonding between the couple and the family.

You've gone from lead actor to director. How was that experience?
I was never a comfortable actor. Whenever I used to put on my makeup I felt suffocated. It felt like a plastic bag around me. I was trying to be a good actor but I wasn't a natural one. This is far more comfortable. Being an actor got me one-two hours of extra sleep but what I have now is peaceful sleep. I never got that as an actor. I was never peaceful when I was an actor. There are a lot of insecurities with comparisons and competition; and people inducing negativity into you. I'm not a guy who appreciates that. Once this creative journey of direction started there's been no negativity; people give u advice but that's it. I'm much more happy in this space.

Is there anything you want to tell the audience about Mr. Majnu?
Please do come and watch; you'll have a lot of fun. The first half of the film focuses on human emotions and the second half is all about fun. And the fun is not coming from comedians even though Priyadarshi and Vidhyu and a surprise kid character who is Dil Raju garu's grandson are all there. Subbaraju garu is also a big comic relief in the second half. There is fun and emotion but everything is driven by the surprise element – Akhil. It's not to say that it is a one man show but for you'll feel like, 'I wish I had this brother, friend, son, lover etc like him.' I'm not projecting him as a mass star but a human being that everyone would want in their life.

What are your plans for the future?
I have a few commitments with producers. Immediately there's one with Mythri movies. There are two others but I don't know if I can reveal them right now. Unlike my previous two films which were already written, I've now got lines but have to sit and work on them; I'll start on that after tomorrow's release. I just like working actually; I just want to get back to work.
- Maya Nelluri