Pokiri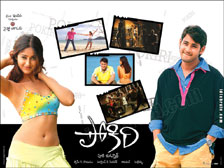 The title may not be very apt for the kind of role Mahesh Babu played in this movie. If you didn't have a clue about the movie, the tile might actually mislead you. However, it will be a good surprise, because this is a movie worth watching.
Pokiri is the story of a young, dynamic, energetic, handsome, brave and rowdy guy, whose mannerism makes him still look like a boy next door. The backdrop is two gangsters in the city trying to get money using all kinds of villainous actions and how our guy puts an end to it. Sounds very normal, yeah you are right. But the way movie was made; with so many interesting scenes adding to the GREAT performance of Mahesh Babu makes it a good movie. In real standards of movie making, this movie might stand as an OK movie, but for Telugu Cinema definitely this has got everything people expect.
There are 10 about ten points that make the movie a must to watch.
1. Mahesh Babu Acting
2. Mahesh Babu Acting
3. Mahesh Babu Acting
4. Mahesh Babu Acting
5. Mahesh Babu Acting
6. Mahesh Babu Acting
7. Mahesh Babu Acting
8. Poori Jangannath's direction / characterization
9. Mani Sarma's music
10. Poori Jangannath's dialogues
Director Poori has shown his talent in building a character 'Pandu' and playing it so intelligently. His strength also lies in converting routine dialogues and conversations as realistic as possible. They are not only convincing, but many times created pretty good humor in the movie.
This movie is not different in many ways with regular 'gang war-hero-killing-villains-happily-marrying-heroine-thereafter'. The way it was told on the screen is pretty good.
Mahesh Babu's role is the best and must watch performance. Everybody else did just fine. Heroine Ileana is amazingly beautiful, sexy and pretty. People leave theatres and definitely talk about that beautiful body of hers with a very cute face. She will be in limelight for sometime at least.
Movie has got a comedy track that is good, but far fetched. The war between the gangs and hero killing so many villains makes it look like too far from the reality. But fortunately that doesn't bother you.
Mani Sharma has made himself a standard for others to envy, in providing both songs and background music for movies like this. His work is excellent too.
Mahesh Babu and Poori Jagannath are probably the ones to be commended for getting a good product out like this. Director was definitely successful in establishing and maintaining the characterization of 'Pandu'. After 'Idiot', Poori's strength in characterization shows up a lot in this movie.
Mahesh Babu stands out very high in many aspects of being a popular hero in this industry. His looks, acting, dancing, fights and natural/innocent dialogue delivery has been outstanding and improving since Okkadu, Arjun, Athadu and now 'Pokiri'.
Overall, this is a must watch for many cine goers.
If you are normal audience, you will like this movie.
If you like the music and characterization stuff, you will love this movie.
If you are a fan of Mahesh Babu, you pat yourself on your back for being one.
Yours Sincerely,
Bala Tirumalasetty
[email protected]

More My Movie experiences:
Srinadh - Allari Pidugu
Sudheer Allari Pidugu
Anu - Athadu
Shyam Krishna - Iqbal
Purnesh - Grahanam
Sudhindra - Super
Vijay - Aparichitudu
Madhav - Aparichitudu
Hazaraon Kwaishein Aisi
Swades
Shyam - Black
Sai - Anand
Rohit - Anand & Veer Zaara
Jaya Prakash - 7GBC
Raj - Anand
Purnesh - Anand
Purnesh - The Village
Sriram - Gudumba Shankar
Purnesh - Gharshana
Purnesh - Lakshya
Purnesh - Yuva
Leenesh - Yuva
Kis - Lakshmi Narasimha
Indian Pride - Tagore
Raj - Boys
Phani - Gangotri
Phani - Khadgam
Vikram - CKR
BKR - Indra (Singapore)
Ram - Indra (Dubai)
Ranjeet - Idiot
Rahul - Indra
King Koduri - Indra
Srilakshmi Katragadda - Mitr: My Friend