Story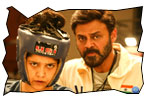 Adi (Venkatesh) is a boxer who didn't make it up to the top due to internal politics. He continues his career as a coach. He is distraught with the kind of quality he gets to see. He is transferred to Vizag and he observes a raw potential Rameshwari (Ritika Singh) who is a slum girl. But she is not focussed. Adi spends his personal money and pays her to come to boxing classes. Rest of the story is all about how Adi makes Rameswari realise the seriousness of her goal and how he redeems himself through her win.

Artists Performance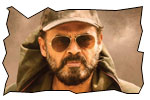 Venkatesh: Venkatesh is fabulous as a coach. He has shed all his image and mannerisms to do this role. He didn't wear any makeup and has sported a salt and pepper look. He has never tried to dominate in any of the scenes and under-played whenever required. He has also sang Jingidi song well and it entertained fans. He has changed his dialogue delivery as well and his new delivery has worked big time.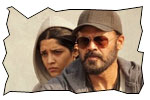 Others: Ritika Singh - a national level kickboxer by profession - looks believable as a boxer. She looks sophisticated for a slum girl. But, acted well. Mumtaz is good as a girl who is jealous of her sister. Nassar provided some harmless entertainment as a junior coach. Tanikella Bharani is seen in a supporting role. Popular Bollywood actor Zakir Hussian is good as the villain. Raghu Babu and Anitha Chowdary play heroine's parents.
Technical departments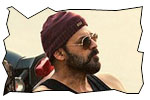 Story - screenplay - direction: It's a new story for Telugu cinema though we had seen many such sport films in national and international cinema. A reluctant student goaded by a passionate coach to become a champion forms the crux of the story. Films like Mary Kom and Dangal are made as bio pics on sports in India in the past. The way characters are introduced is good. The story progresses well, but student falling in love with coach looks very filmy and stereotypical. Each of the sports film has an ace-up-in-the-sleeve for climax. It could be a strategy or a pep-talk. Guru too has Chengiz Khan's strategy for the climax fight, which has pumped up the energy levels. Zakir Hussian character is outright negative with no diplomacy added to it. Director Sudha has missed on the nativity aspect of the film. It might affect in audiences relating with the student characters.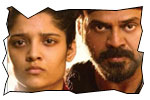 Other departments: Background music scored by Santosh Narayan is good. Cinematography by KA Sakthivel is gritty. Dialogue by Harshavardhan is good, though vizag accent by girls look caricaturish at times. Art direction by Jacki is realistic. Costumes design by Poornima Ramaswamy is good. Editing by Sathish Surya is satisfactory. Production values by Y Not Studios is good.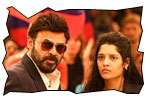 Analysis: Firstly, the director Sudha Kongara and the actor Venkatesh should be appreciated for uniting to do a subject that was not attempted in the recent past. Films like Aswini (life story of running champion Aswini Nachappa), Mayuri (life story of dancer Sudhachandran) etc used to be produced by Usha Kiron Movies in 80's and 90's. These are bio pics and are inspiring stories of women. In Bollywood, Chak De India has started off the trend of a superstar coach redeeming himself through the victories of his girl students. Recently released Dangal is another fine example. Plus points of Guru are story, realistic performances by lead characters and climax. On the flipside, this film has nativity issues. Though it's a Telugu movie, the proceedings in the film doesn't involve us directly and doesn't make us relate to the characters. On a whole, Guru is a nice movie if you ignore nativity issues and relatability.