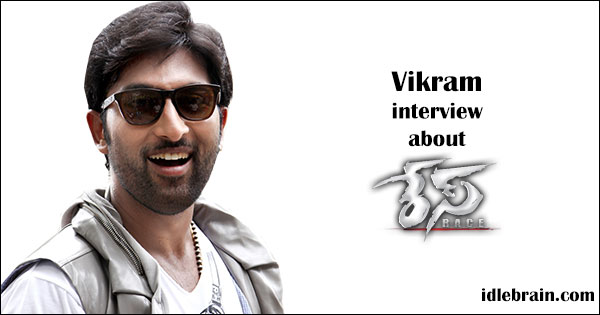 27 February 2013
Hyderabad
Vikram who has made his debut with Ravi Babu's Manasara is coming with his second film Race. His character in Manasara is passive and his character in Race is going to be energetic. Here are excerpts of an exclusive interview -
Background
My father is into business. I have completed MBA from IIPM. Then I went for training in acting at Vizag Satyanand's institute. I have completed training by the end of 2009 and we were looking for a nice director who is an expert at launching new faces. We found Ravi Babu to be the right director for my launch film and approached him. He has assessed my strengths and weaknesses and then prepared a script. Ravi Babu is a kind of director who writes script first and then does the casting. But for Manasara he selected the hero first and then wrote the script.
Box office result of Manasara
Manasara has generated mixed response at box office. Students liked the movie. Manasara ran for 125 days in main theater of Vizag. It was released in the month of December which was a wrong season to release. Music and cinematography were really good. The action choreographer got Nandi award for his climax fight in Manasara.
Tell us how Race happened?
There is a gap of more than two years between releases of my first film and second film. We have started on the script work of Race six months after the release of Manasara. Director Ramesh Raparthy is my childhood friend. He has done short films and reality shows in Nigeria. He didn't know that I was acting. He was surprised to see me in Manasara film. I had the story idea of three friends going to Bangkok for a bachelor party. We worked on script and prepared a skeleton (arch). We knew that people would compare with Hangover and Zindagi Na Mili Dubara films as both these films are associated with bachelor parties in wild locations. ZNMD was released two months after we started working on the script.
I knew producer Anne Ravi for a long time and I bounced the story idea to him. He liked it and suggested a talented writer called Shankar who has impeccable comedy timing. He has worked for Race and you can see comedy and entertainment mixed into the scenes without disturbing the story flow. We worked for over 10 months on preproduction of Race. We cast new faces and held a workshop for them for three weeks. Karthik and Bharat – the other heroes of the film are new. All three main characters have equal roles. Race is a characterization-based script. Srinivas Reddy has done a full length character in this film after Solo.
Why did you title the film as Race?
It is a race for money, honey (girls) and stability. Each character in the film is representing one quality. I play the role of Abhiram who is a balanced guy and wants stability in life.
Which genre Race falls under?
Race is a cool genre film. It is an out and out comedy. A popcorn entertainer. First half of the film has comedy and second half mixes comedy with an element of suspense. I saw the first copy and am confident of movie's success.
How are you planning your career?
I am going film by film. Not trying to become an action hero overnight. I want good script and I prefer quality over quantity. I will take call about my next film after the release of Race. I might have one more release in this year.