17 November 2011
My Movie - Si Ramarajyam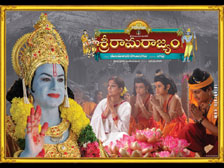 LavaKusa , an Epic in Telugu Film History, Remaking it that too in this 21st century when people gradually loosing interest about cultures, traditions, human values is nothing but daring to the utmost. Out of no where a person named SaiBaba surfaces with whole hearted intention of making a film in the name of Lord Rama and it looks like his strong intention got Rama's blessings and within no time he could able to form a team comprising of 80 year old Director Bapu garu as Director, Ramana garu as Script Writer, BalaKrishna as Rama, Nayana Tara as Sita, Sreekanth as Lakshmana and most importantly Illayaraja as Music Director and named it as "Sri RamaRajyam" . When this project was announced , there was least interest in everyone. Lord Rama's leela's started working with obstacle free shooting of the films, Audio success and finally getting applause from all sections of Audience. Even after almost 50 years of Lavakusa with people still remembering the awesome scenes and songs in that movie, and has every reason to believe that viewers and critics will have all eyes and reasons to compare and draw conclusions by comparing it with LavaKusa, trying it remake it with almost the same scenes/content and reaching it is almost next to impossible. Did the unit of SriRamaRajyam meet the expecations ? To answer this question, after watching this movie for 3 hrs, probably if not yes, they reached to the maximum extent anyone could expect. Yes, the story is in the book, there is no change that can be done to this great epic, but catering it to the present generation is a herculean task.
Bapu garu made sure you get involved in the plot and has mesmerized us with straight yet gripping screenplay. Every scene is more or less same as in Lavakusa, without the padyalu , most needed for that generation telugu people ( the current generation barring a few handful of people never have interest in even listening to a small telugu proverb) and the way it has been presented on the screen, the grandeur, Visual effects, Background score, rich camera taking, and the portrayals of the characetrs have taken the movie to a greater heights. Starting with the kid who played the role of Hanuma, Lava and Kusha the "Duo" around whom the whole story goes around, Lord Rama, Sitha Devi, Sage Valmiki, and others were apt in their roles, and at some times we feel that they were tailor made for these roles and are the best possible picks from present generation telugu actors. Some scenes which were high on emotion, specially the ones that come in second half starting with bala hanuma telling LavaKusha to meet Lord Rama in Ayodhya, with both of them Singing the RamaYana on the streets of Ayodhya, then entering Ayodhya and when they first see Lord Rama, the expressions the portrayed on their face has to be watched on silver screen. We are sure to sympthaize with these characters in each and every frame of the movie. The closeup shots that Bapu garu has taken in some of the emotional scenes is sure to give some goosebumps once you get involved in the essence of the film. The songs picturisation on screen takes us out of the world, the feeling when viewing those songs, listening to the lyrics is an experience we have to feel sitting in the theatres and is not to be missed. The portrayal of Sita character by nayanathara has two different shades, the variation she showed as Young Sita and matured sita remember us of Anjali Devi garu(Who was the Sita in Lavakusa). Rama role in this movie is all about subtlety and emotions, which were done fabulously by him. His calmness, dialogue diction, making us feel the emotions, portrayal of the role(even though a short one per the script) was balanced in all aspects.
The way Bapu garu used Maestro Ilayaraja's music and songs are commendable. Replacing the Padyalu from Lavakusa, with the songs, which in each line so simple to understand for the current generation( thanks to Jonnavithula's Lyrics), narrating this story in a simple way leaves us spellbound. The way Bapu garu extracted what he wanted from the characters are to be watched on the screen. The art department needs a special mention for creating huge settings , Rama's Rajabhavanam being the top notch. The dilaogues uttered by the characters in the movie, penned by demised writer Mullapudi venkata Ramana should be appreciated, Ramana garu used simple telugu to make it easy to understand for each section of the audience. They way BalaKrishna essayed the role of Lord Rama and the way he showed his emotions thorught the movie are top class and of course Nayana Tara who gave career best performance in the role of Sita.
My take: In this internet era, we pretty much lost all of that thrill due to readily available information. But here comes an opportunity to enjoy some of those feelings after so many years. It landed in the form of telugu movie called "SriRamaRajyam". Let us watch this movie on silver screen with our family/friends to enjoy the visual grandeur and I feel it is the only way to pay some tribute to our rich tradition and culture. I am sure everyone will be entertained as I was yesterday and your encouragement will enable more producers and actors to start thinking about making few more mythological films which depict the clutural values of our rich Telugu tradition.
If you have kids, take them to this movie, I am sure they will be thrilled to see Rama, Lakshmana, Sita, Lava-Kusa on the screen and in the end they will have some opinion about Lord Rama and Ramayana. In this generation where we regulary watch dances, fights, punch dialogues and Brahmi's comedy, SriRamaRajyam comes as a refreshing film that tells story as a story, remembers us of the morals, culture, tradition, a Husband and Wife relation, Mother and sons relation and what not, the list goes on.
Signing off by saluting to all of the crew that worked hard for this movie and may god bless Sai Baba garu for producing this movie with huge budget and also thanking BalaKrishna for accepting this script which is story based and the news that Bala Krsihna co-ordinated so many things behind the scenes to bring this magnum opus in front of us. Hoping this movie will become huge hit, bring money and joy to all of those committed and dedicated workers who made this happen, and bringing an epic that has a place in the annals of Telugu cinema. Proud to say I am a "telugu" and its proved once again we are on the top in producing such kind of movies which make us stand unique in Indian cinema.
Thanks.
Kiran kumar Jandhyala.
kiranku_jan at yahoo dot com
More My Movie experiences:
Gaganam by fan
Ala Modalaindi by Lalli
Ala Modalaindi by Deepthi
AOD by King Koduru
Rakta Charitra 2 by Sreekanth
Rakta Charitra 2 by Mahesh
Orange by Dayakar
Rakta Charitra 1 by Sreekanth
Robo by Sreekanth
Maryada Ramanna by Kumar
Inception by Kumar
Bheemili by Nani's sister
Raavan by Lalitha Spoorthi
Vedam by Praveen
Vedam by Ratnakar
Vedam by Laya
Vedam by Naveen Soma
Vedam by Pavan
Vedam by Deepak
Vedam by Manohar
Vedam by Sridhar A
Vedam by Sarath Chandra
Vedam by Murthy
Vedam by Kumar
Vedam by Santosh
Vedam by Sreekanth D
Prasthanam by Ravi
Prasthanam by Suresh
Prasthanam by Amarnath
Prasthanam by Krishna Chaitanya
Prasthanam by Che
Prasthanam by Purnesh
Prasthanam by Kumar
YMC by Kumar
YMC by Mallik
YMC by Satya
YMC by Anurag Reddy
YMC by Ramskott
YMC by Dellcom
YMC by Ashok
YMC by Ramya
YMC by Sudheer
YMC by Laya
YMC by Survi
YMC by Rajeev
YMC by Pavan
YMC by Rohit
Inkosaari by Avanthi
Inkosaari by Sneha
YMC by Praveen
YMC by Rajani
YMC by Sujith
Inkosaari by Ganesh
Leader by Sreekanth D
Maya Bazar by Gopal
Mahatma by Kishore
Baanam by Stanley
Josh by Nathan
Magadheera by Ashok
Magadheera by Wannabe Director
Magadheera by Shanti
Magadheera by Anitha
Magadheera by SS
Oy by Prathna
99 by Bala Thirumalasetty
Veedokkade by Srinivas
Delhi 6 by Vamsi
KIKK by Sweta
Luck by Chance by Srini
KIKK by Lalitha Spoorthi
Arundhati by Naveen
Arundhati by Srini
Arundhati by Bharat
Sasirekha Parinayam by Santhi Venkat
Sasirekha Parinayam by Vamshi Muthapu
Sasirekha Parinayam by Niharika Reddy
Nachavule by Vamsi Krishna
Neninthe by movie lover
Avakai Biryani by Vamsi Krishna
Kotha Bangaru Lokam by Vamsi Krishna
Kotha Bangaru Lokam by S
Ashta Chemma by Deepthi
Ashta Chemma by Lalitha Spoorthi
Sarkar Raj by Pradeep
Jalsa by Lalitha Spoorthi
Gamyam by Sridhar
Gamyam by Sreekanth D
Gamyam by Sanjay
Halla Bol by Purnesh
Taare Zameen Par by Ashok Varma
Taare Zameen Par by Raja Simha
Happy Days by Krishna Sastry
Chirutha by Phani Kumar
Chak De India by Ravi
Yamadonga by Lalitha
Chak De India by Shyam
AMAV by Darsakudu
5 in March by Sashidhar
Okkadunnadu by Anand
Black Friday by Ratnakar
Desamuduru by Krishna Prasad
Guru by It's opinion
Dhoom 2 by Lalitha Spoorthi
Dhoom 2 by ASK
Don - Syam
Boss - Anand
Boss - Hrithik
Stalin - Bala
Bommarillu - Nandini
Bommarillu - Darsakudu
Bommarillu - Vasu
Bommarillu - Harsha Prakash
Bommarillu - Lalitha Spoorthi
LRMB - Shravan
Bommarillu - Anirudh
LRMB - Srinivas
LRMB - Darsakudu
LRMB - S Sridhar
Bommarillu - Shridevi
Bommarillu - Vasudev
Bommarillu - Roopa
Sriram - Godavari
Sarath - Bangaram
Bala - Pokiri
Srinadh - Allari Pidugu
Sudheer Allari Pidugu
Anu - Athadu
Shyam Krishna - Iqbal
Purnesh - Grahanam
Sudhindra - Super
Vijay - Aparichitudu
Madhav - Aparichitudu
Hazaraon Kwaishein Aisi
Swades
Shyam - Black
Sai - Anand
Rohit - Anand & Veer Zaara
Jaya Prakash - 7GBC
Raj - Anand
Purnesh - Anand
Purnesh - The Village
Sriram - Gudumba Shankar
Purnesh - Gharshana
Purnesh - Lakshya
Purnesh - Yuva
Leenesh - Yuva
Kis - Lakshmi Narasimha
Indian Pride - Tagore
Raj - Boys
Phani - Gangotri
Phani - Khadgam
Vikram - CKR
BKR - Indra (Singapore)
Ram - Indra (Dubai)
Ranjeet - Idiot
Rahul - Indra
King Koduri - Indra
Srilakshmi Katragadda - Mitr: My Friend