Story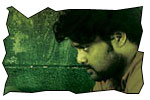 Aadi (Yuvan) is an idling youngster. He falls in love with a rich girl (Madhu Sharma). He marries her and he fails to perform sex on the first night. She humiliates him by throwing him out of her house. He has no place to go. On his way, he meets a couple of his school-time buddies. They team up and start robbing people. They get fed-up with small amounts and want to rob a bank and settle for life. They rope in another couple of guys for this job. They rob 5 crores from the bank. Since the cops are on their trail, they want to split and go to different towns by entrusting the job of carrying entire money with a single guy. The rest of the story is all about how Aadi takes sweet revenge on his wife and how he emerges as the winner.
Artists Performance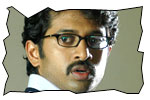 Yuvan (brother of director Amma Rajasekhar) is adequate as the underdog in this film who ends up being a traitor and a strategist. Madhu Sharma did the role of a negative touch. It's a different characterization for Shashank and he performed really well. Ajay did the role of an intelligent investigating officer who is on the trail of robbers. Shafi is good as one of the robbers in the film. All other actors are from Tamil.
Technical departments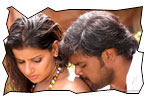 Story - screenplay - direction: The entire second half (including the twisted climax) of the film is inspired from the Bollywood flick 'Johnny Gaddar'. The first half is devoted for establishing three main characters and getting the conflict point ready. The story point and progression method is good. But this story is poorly handled. It is a dark film. Screenplay in the first half is not good. Second half screenplay is adequate. Direction should have been better. Too many Tamil actors and Tamil flavor rob the Telugu nativity out of this film. Story and screenplay is penned by Yuvan who acted as hero.
Following aspects in this film are flawed -
1. Heroine throwing out hero because he fails in the first night looks silly.
2. Though the technique of robbery is good, the spy cameras in bank are missing.
3. The logic behind entrusting one guy with 5 crores and sending him to different town instead of splitting one crore each is completely unconvincing.
4. Execution of killings is dealt in a dull manner.
5. Why did an intelligent cop erred in the climax of the film.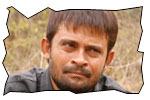 Other departments: Songs in the film are adequate. But background music is good. Taman S scored background music like a veteran. Cinematography by Pavan Sekhar (brother of Amma Rajasekhar) is okay. There are different color tones in this movie as DI (digital intermediate) is applied. Stunts by Gilli Sekhar (brother of Amma Rajasekhar) are adequate.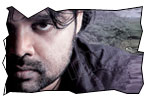 Analysis: First half of the film is uninteresting. Second half has interesting elements, but narration is unconvincing. The plus point is the dark story. The negative points are bad execution and uninteresting direction. This film is about cold-blooded attitude and revenge. A deft direction would have made this movie a better product. On a whole, Bheebatsam disappoints and lives up to its title.
Bheebatsam links
• Music launch
• Photo gallery
• Wallpapers
Jeevi reviews of previous 5 films
• Manorama
• Aakasamantha
• Sontha Vooru
• Malli Malli
• Mesthri
• Naa girlfriend baga rich
• Drona
• 16 Days
• Satyameva Jayathe
• Siddham
• Nenu Devudni
• Konchem Istam Konchem Kastam
• Shh...
• Arundhati

More Reviews