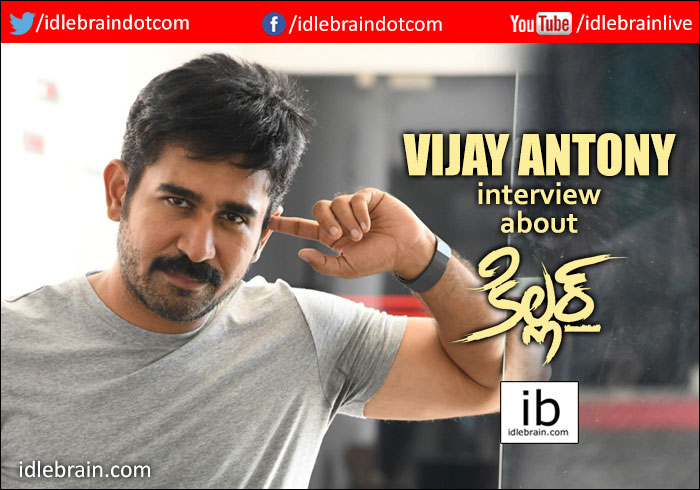 6 June 2019
Hyderabad
Vijay Antony's films are unique and he himself is one-of-a-kind. The man has done everything from producing, music composing, singing, editing, lyric writing, and of course acting over the course of his 20 year career. He has even won a Cannes award. Still, he remains humble and feels that he has much more to do. Read the entire interview to get inspired by his journey from a sound engineer to one of the most bankable stars in Tamil and now Telugu.
Tell us about how you transitioned from television to films.
I started as a sounds engineer actually. Then moved to television as a music director, did jingles for ads, and then entered films as a music director. After that I started my own production house and started acting. I've done nine films as a producer. Killer is my 10th film and my first with another producer.
You've done so much!
It's been 20 years since I've been working so not really. Hereafter I've got huge plans of doing so many things. Now I've got more time to do more. I'm planning to do at least three movies a year. Earlier I was concentrating on my production. Technically I was very involved with BGM, editing, music. Now I'm focused on acting. I'll be concentrating on script and performance.
How do you manage to excel at so multiple crafts?
You can also do it. The situation and need decides our profession. I can't say it's being multi-talented, I do multi-work, mainly out of need. I work hard and manage time. Somehow we have to for survival. Otherwise none of us can exist. Also, every one is multitasking at some level. Taking working women for example, they work, cook, clean, look after kids, elders, they do so much. Everyone works hard. You choose which area to work hard in. I can put my hard work in any place but I thought this field would give me recognition so I chose this.
Which do you like doing more?
It's not exactly about liking but I'll continue acting more. It is easier. It's the best job in the world. There is so much pay and respect. People love you without knowing the real you. In any other profession they'll like your work but they don't have the same connection.
Did you ever imagine you would be an actor when you were growing up?
No never. I wanted to be big. I had no proper education. I studied but I didn't learn. I failed my subjets. I wanted to do something big in life. Like most common men wanting to be big, I also wanted to get into films. It doesn't need any degree, here even a school drop out is the same as a PhD graduate.
How did you enter into the industry?
I came without knowing anything. Slowly I started planning what do with my skills. I didn't know the technicalities of music so I thought I wasn't fit for the work. I decided to learn sound making because in terms of music everything happens at the studio. It's the heart of music. I thought I could be an office boy also as long as I can get in and learn. Even if one wants to be a director, you can start with any work on location and you have to observe. So I started with sound engineering and then started doing music composing.
How did you get your first break?
I struggled a lot for my first break. I would've gone around different offices some 400 times each. I know what I am and I have strong conviction but others don't know so they may treat you badly. I'm not ashamed to beg. Even now I face problems of a different sort.
What inspires you to do stories that are out-of-the-box?
I feel I'm doing commercial movies. I'm doing the movies according to my performance. My behavior is the same on screen or off. I don't exaggerate so people think I'm doing something different. I can't amplify my delivery, I don't think that type of performance would suit me, so I choose films accordingly.
How do you judge a script?
Just like a layman. When you go see a movie, you either like it or you don't like it. I'll listen completely when someone narrates to me. In the end I'll either like it or I don't. If I like it, I'll do it. I behave like audience while choosing. My mentality is like the general audience so my judgement is like everyone.
You've also won a Cannes award; how did that feel?
I feel sometimes people will give you an award for barely any work. Sometimes even if it's good work people don't recognise it. So I don't concentrate on awards. If you value ur work then it's enough. I still really don't think I know music.
Tell us about your current film - Killer.
I'm very happy to act with Arjun sir. Ashima is opposite me. The director is my friend; he studied visual communication. In this film I didn't do music. Simon did the music, it's his first time. My friend Pradeep is the producer.
How is acting without producing?
It's a different experience. I'm confident about producing projects but I decided to stop doing it because there are many positives to working with another producer. Associating with another person increases the project's value. During the process of making Killer I travelled with my producer, his presence increased the opportunities, networks, many other things. I'm able to associate with more people this way and grow bigger with others.
What about the plot?
It's a suspense. I'm the killer. Arjun sir is the cop. The story and screenplay will definitely entertain you for two hours without doubt.
What does the future hold for you?
Like everyone else I'm also going to grow slowly. We are all growing older and wiser with time; life will teach us how so I'll definitely grow bigger.
- Maya Nelluri