Godavari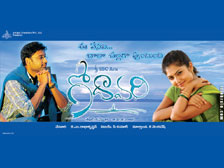 Oh! What a headache. One of the biggest headaches in the recent times. 40-40 overs of cricket in a relatively cooler California , but under an equally unforgiving sun. It wore me out with one ray of hope… that was to watch Godavari after all that. If any of that meant Godavari gave me a head ache, don't even think.
Godavari seems to have captured the fundamental spirit of what a river means to the people in India. There's one thing in India that makes it what it is. Everything that is Indian is connected in some way to divinity and God. And that in itself speaks of the age of innocence that is so pure, so happy and full of nostalgia (the age of maturity being full of analyses, introspection, retrospection, probably like what I am doing). Remember the scene where Tanikella Bharani halts the boat and announces a place where Sitamma is supposed to have dried up her sari. Remember how the factional character expiates to the sins he has committed and offers his life into Godaaramma Thalli. People, good or bad, link or treat a river as a Mother and mother is so divinely interpreted in our culture. I do not have any notes written down like a reviewer would probably have, but as an average 'educated' viewer of the movie, these two scenes among the ones that I can recall, have cinematized our Indian hearts like nowhere else.
To move more into the drama of the story, Godavari simply explains a simple regular life love story, without much surprises and twists and turns which probably suit the horror genre. A young woman is out on Raamulavaari darshanam , as her mom puts it, while trying to have a nice time. Pretty rare for a Telugu girl, but still acceptable, I am sure, in some families. And a regular guy who wants to do something but hasn't exactly figured it out, probably like Shekhar himself, or like Sumanth, or like myself or, you know, just like anyone of us. We are humans after all. A family, a dilly dallying girl, her arrogant-about-achievements beau, all set on a beautiful boat ride to Bhadrachalam. Enter some more interesting characters and it's a well set, well paced drama. I do not know the SPCA laws and whatever made the graphic-dog look like that but the point of giving the animals a voice of their own should leave no societies to complain.
The movie ended abruptly. Well not so much. By the time the movie started to end, I had figured it out that it's going to come to an end. All good things come to an end, and Godavari being a good one, chooses to come to an end. One thing that set me thinking is why Sumanth had to read her diary. Huh. But yeah, I know, I agree, my mind is commercialized too, envisaging a sakalagunaabhiramudu for a hero. Only in our case, the hero is a regular nice guy.
Well done Shekhar and team… Needless to say, my headache was gone and I used a little coffee for it too.
Sriram
[email protected]

More My Movie experiences:
Sarath - Bangaram
Bala - Pokiri
Srinadh - Allari Pidugu
Sudheer Allari Pidugu
Anu - Athadu
Shyam Krishna - Iqbal
Purnesh - Grahanam
Sudhindra - Super
Vijay - Aparichitudu
Madhav - Aparichitudu
Hazaraon Kwaishein Aisi
Swades
Shyam - Black
Sai - Anand
Rohit - Anand & Veer Zaara
Jaya Prakash - 7GBC
Raj - Anand
Purnesh - Anand
Purnesh - The Village
Sriram - Gudumba Shankar
Purnesh - Gharshana
Purnesh - Lakshya
Purnesh - Yuva
Leenesh - Yuva
Kis - Lakshmi Narasimha
Indian Pride - Tagore
Raj - Boys
Phani - Gangotri
Phani - Khadgam
Vikram - CKR
BKR - Indra (Singapore)
Ram - Indra (Dubai)
Ranjeet - Idiot
Rahul - Indra
King Koduri - Indra
Srilakshmi Katragadda - Mitr: My Friend