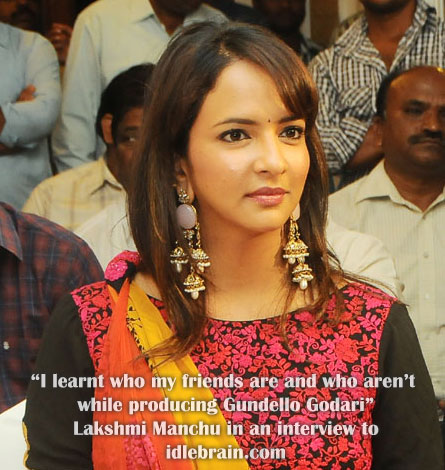 7 March 2013
Hyderabad
Lakshmi Manchu is an independent lady despite being the daughter of powerful film personality. She has produced the entire film of Gundello Godari on her own and without seeking help/support of her father Mohan Babu. Gundello Godari – a love story set against the real flood incidents of Konaseema is all set to release on 8 March. Here are the excerpts of an exclusive interview -
How did Gundello Godari happen?
Raja (director of UKUP) introduced me to Kumar Nagendra. And he has prepared a soft story titled 'Gorinka' for me. After my debut Telugu film 'Anaganaga O Dheerudu' was released, Kumar has felt that Gorinka is not the right project as I got tremendous recognition for villainess character in AOD. He wanted to make a film that has raw emotions. He has selected a few stories from writer BVS Rama Rao's book called 'Godavari Kathalu' and prepared the plot for Gundello Godari film. We have bought rights of book from BVS Rama Rao for screen adaptation.
The entire movie was shot in 84 working days and 40 days of the shoot was done on floods episode. It was the most challenging one to shoot flood episodes. We have created a set with 200 fishermen huts and used 50 cameras (out of which 35 are 5D cameras) simultaneously for the flooding episode as flooding happens once; we have only one opportunity to capture all. We had a near-death experience when we had almost drowned.
What genre does Gundello Godari fall in?
Gundello Godari is a love story set against an adventurous flood backdrop. The runtime of the film is 1 hours and 56 minutes.
Casting:
We have done character-driven casting. We wanted to have faces familiar in both Telugu and Tamil as it's a bilingual. Aadi and Tapsee are popular in Tamil. When the project was started, I signed Mani Ratnam's Kadal and Sundeep Kishan has signed Yaaruda Mahesh. Now, we are familiar faces in Tamil too. Supporting actors include Pruthvi, Annapurna and Jeeva. We cast a few Tamil actors in vital characters for Tamil version. We finished shooting of both these versions in 84 working days.
What is the reason for the delay?
The CG (Computer Graphics) work is extensive. Since it's has so many flood scenes, the CG work involves lot of water to be created on computer. The current CG companies in Hyderabad didn't have such experience. EVA and Ethnic CG companies have come forward and delivered fabulous output in stipulated time.
What are the highlights of the movie?
As I mentioned earlier, computer graphics in this film appear real. Maestro Ilayaraja gave us excellent tunes and background score. My favorite song is 'Nanu Neetho' melody which has become the signature song for Gundello Godari movie. It is more special because Bhavatharini has sung this song. She told me that singing this song has reminded her of her mother. Art direction by Murali and Cinematography by Palani will stand out.
First time director Kumar Nagendra has handled the emotions and action sequences of the film really well. He is great on sets.
How is the experience as a producer for a film in which you also acted?
I learnt who are my friends and who are not while I produced Gundello Godari. Some friends who I took for granted have left me in middle of Godari with no life jacket. Some people who I am not friends with have come forward and helped in a beautiful way. Producing this film has made me learn to be much stronger and more business-oriented. Convincing distributors is the biggest challenge and I could able to sell the movie.
What's next?
I want to take holiday. I am planning to visit Isha Foundation on Siva Rathri. Tamil version of Gundello Godari will release on 22 March. I will go for a big holiday once Tamil version is released. I am planning to start a new show on TV soon. I will consider acting in many more movies.