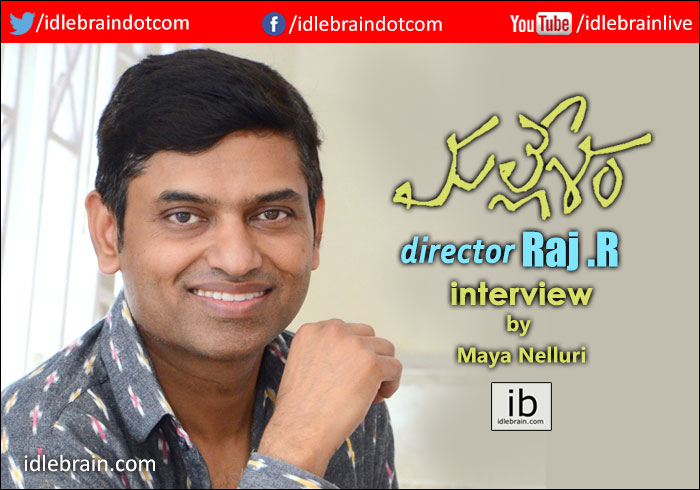 21 June 2019
Hyderabad
Debut director Raj of Mallesham speaks exclusively to Idlebrain about the ups and downs of doing the screenplay, direction and producing the film.
Tell us about your background.
I'm a software programmer from the US. 11 years ago I wrote the screenplay and produced a film in Tamil. It was a financial disaster and the process of filmmaking in India was hell back then. It wasn't at all a pleasant experience. It took me four to five years to pay off the loans so I went back and worked in the US. Because the experience was so unpleasant I wasn't interested in working on any other projects but I wrote a couple of screenplays during that period. They didn't really drive me to leave everything and come to India again. The process of making a film takes a couple of years so something had to really inspire me to go through that again.
What moved you to make a film again?
Two and a half years ago I saw the Ted Talk by Mallesham garu and I couldn't get it out of my mind. Within a couple of months I had the screenplay draft ready. I thought someone could make a good movie on it so I circulated the draft amongst my contacts. But no one came forward to make it. Then I decided to produce it. I bought the rights from Mallesham garu and started the process. Everyone said it wouldn't make money even though they all thought the story is good. Back then his Ted Talk had some 60k views so people assumed wouldn't be commercially viable; it catered to a niche audience.
So how did you start the filmmaking process?
I wrote my version but gave it to three other people to write again separately. Mallesham sir, his mentor Ganesham who heads Palle Srujana, me, my previous film's director, and the three writers got together to decide on the best version. I paid all of them back then itself but they ended up picking my version in the end.
There is no mentor character in the film right, why is that?
The film is about his life between 1992-99. Ganesham is an ex-army man who heads the organisation that goes to a different village every month for a couple of days to find rural innovators. They've been doing this for the last 20 years. They found Mallesham garu in 2007 so that's when they marketed him and he became famous.
So how did you decide on the cast?
I was thinking about who to cast. Initially I thought of Nani, Vijay, but we can't get them for the next three years at least. Then someone suggested Darshi. I wasn't sure because he was doing comedy and this is a serious film. Then I watched his previous works. In Bommal Ramamaram, Junun and others he did serious negative roles, auto driver roles etc. Then I thought he's versatile. He's been stereotyped after Pellichoopulu because it was popular. After I decided on him, I wrote the later versions of screenplay with him in mind.

Jhansi I know through Mahesh who did the casting for the film. At his institute he told her about it and she said she has been wanting to associate with anything weaving related. She infact wanted to produce something to promote weaving but couldn't. So she said at the least she would like to be a part of a film like this.

Ananya read the few pages of the audition and liked it so much that she quit her Infosis job and wanted to do whatever it takes to do that role. Someone else will say I'll quit once I get the role but she convinced me with her perseverance. She was picking up very fast. By the time the shooting came around, she moulded herself perfectly.
How did you end up directing?
Darshi suggested Tharun as the director, basically someone who'll make it really good. I wasn't particular about directing. I wanted the best for the product. One of the other writers went to Tharun and said Raj is making a movie about Mallesham. He said let's work on the script first and then decide on who fits the role. But by then I made up my mind that it'll be Darshi. Then I thought if we take another director we have to give him the liberty to the do what he likes. I don't know if he'll do it the way I imagined it. Already there were four versions and there might be another so I couldn't risk it if there's another director.
Tell us about the journey to the shoot.
I started working on it from January 2017. In June 2017 we bought the rights but in October I heard about Padman is releasing. The story looked similar and I felt disheartened by it. But after I watched the show on January 26 2018, first show, I thought only about 20-30 percent was similar but the way I wrote and visualised Mallesham was very different so I was convinced that people won't say it's copied. It wasn't authentic, the surroundings, the actor, the name Muruganathan also didn't go with Akshay. There was also a romance track of Sonam Kapoor. They were looking at a pan India 100 crore film but I'm not so I didn't have to do it commercially. My approach was very different. So l decided to do it in an honest way. I wanted the setting, language, every thing to be exact. The name Mallesham might not be catchy but the story is so powerful that the names and tags won't matter. Once you see my film you'll see it doesn't matter. People said don't put that name, the story won't make a penny, don't cast Darshi but I did all those things. Everything is unconventional. Just like the actual story of Mallesham, everyone told him he can't do it but he did it. Without passing tenth how can anyone invent machines? Still, he did it.
Are you nervous about the release?
I'm not nervous because I thoroughly enjoyed the movie making process for Mallesham. There were the regular issues of dates, production costs etc., but I thoroughly enjoyed it. We lived in that village which helped immensely with the research, finding out about the technicalities and intricacies of the weaving.
What are your expectations for the film?
The journey has been satisfying, if I get the money invested it'll be a bonus. Even if I don't I won't b sad about it. The journey was so pleasant enriching and memorable.
What does the future hold for you?
I would like to produce out of the box movies. I have one more story that I might direct but apart from that if someone comes to me with different stories I'd like to produce them.
Was your family ok with you coming back to India to produce?
My family said no way because I lost a lot last time. My whole family was completely against it. It was not just about the money but I was so stressed. I've been back and forth between US and India for last 2.5 years. I've been settled in US for 20 years now. Now after the film is done, considering the feedback they've changed their stand. They are happy I've stuck to it.
Is there anything else you want to add?
When the whole #metoo movement happened I was following Chinmaye, she had the guts to speak out. Generally they don't because of the fear of ostracizing. I didn't want such things to happen in my movie. It's a big responsibility because I'm the director and producer. I drew up contracts with the leads and put a clause about sexual harassment, not only to remove them but that they will pay back all the money that was spent on the shoot. So it was a safe environment provided.

I don't think anyone in India has done this because people wait for the government to come up with a law. We have to come up with common sense ways to keep our people safe. I'm mentioning this in the hope that others will demand this clause and incorporate it into their contacts.
- Maya Nelluri