Bommarillu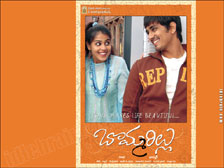 So far, Telugu cinema in 2006 was strictly limited to few blockbusters which mostly catered to the masses. It has been a long time since we have had a chance to watch a nice Telugu family entertainer. So when one of the most popular Telugu cinema sites gave Bommarillu 4.5/5, it is reasonable to be curious about the movie. After all, it has none other than Siddharth and Genelia in the leads, music by Devi Sri Prasad and produced by Dil Raju.
Given such big names and high ratings, expectations soar. So was Bommarillu able to reach the expectations? On a personal note, this movie has impressed me beyond words.
It's rare we get to see a movie that lets you just forget the day, relax. Bommarillu belongs to this category. Call them candyfloss, romantic, or exuberant. But this movie manages to hold the audience until the very end of the movie. So what is the magic all about?
First and foremost the movie comes as a whiff of fresh breeze. The story has shades of few other movies but the presentation is novel and simple in its own unique style. Be it the very beginning scene or the end, each and every scene seems to entertain.
The lead pair has not been new to the screen. We have seen them in Boys but what makes them different here? Siddharth has delivered a terrific performance. In fact, although he has played the 'rich youngster' roles umpteenth times, he manages to bring freshness to the role of "Siddhu". He did really well in the emotional scenes which is usually difficult for many of our heroes who seem to ham all the way. Genelia as everyone has been saying, surpassed expectations. "Hasini" was fabulous!!
Prakash Raj and Jaya Sudha prove that they are the best in the industry. The rest of the cast were great in their respective roles.
Devi Sri Prasad has been known for his fab music. He gives a pleasant score for this film. Siddharth, again, proves that he is multi-talented with "Appudo Ippudo". Moreover, the songs were a treat to watch on screen.
The film is one of the best I've seen in the last few years. It definitely deserves all the attention it has been getting. Director Bhaskar proved his mettle and hopefully he comes up with more brilliant films!
Roopa
[email protected]

More My Movie experiences:
Sriram - Godavari
Sarath - Bangaram
Bala - Pokiri
Srinadh - Allari Pidugu
Sudheer Allari Pidugu
Anu - Athadu
Shyam Krishna - Iqbal
Purnesh - Grahanam
Sudhindra - Super
Vijay - Aparichitudu
Madhav - Aparichitudu
Hazaraon Kwaishein Aisi
Swades
Shyam - Black
Sai - Anand
Rohit - Anand & Veer Zaara
Jaya Prakash - 7GBC
Raj - Anand
Purnesh - Anand
Purnesh - The Village
Sriram - Gudumba Shankar
Purnesh - Gharshana
Purnesh - Lakshya
Purnesh - Yuva
Leenesh - Yuva
Kis - Lakshmi Narasimha
Indian Pride - Tagore
Raj - Boys
Phani - Gangotri
Phani - Khadgam
Vikram - CKR
BKR - Indra (Singapore)
Ram - Indra (Dubai)
Ranjeet - Idiot
Rahul - Indra
King Koduri - Indra
Srilakshmi Katragadda - Mitr: My Friend