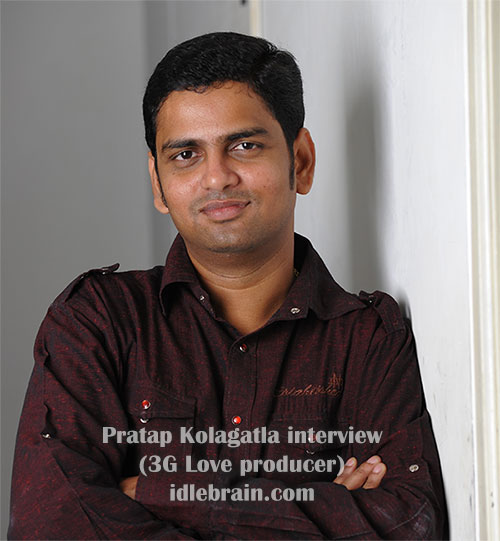 16 March 2013
Hyderabad
Backgound:
I have a company called Square India Adversary Services which deals with commodities market. We have our head office in Vijayanagaram. We have attained a great success in our business despite having headquatered in Vijayanagaram because we have used internet and mobile marketing to the maximum extent to reach out to our clients.
I had been interested in films since childhood and I wanted to produce a movie. That's when director Govardhan narrated the script of 3G Love to me. It excited me and I produced it.
Doing the publicity differently
Since my business needs the use of mobile and internet technologies, I used them effectively for 3G Love. We have sent around 6 crore sms for casting call. It cost us around 0.8 paisa per sms. Now it costs 15 paise for each SMS due to new TRAI guidelines. When we released the songs, we kept a hotline for songs. If you call certain number, you can listen to songs of 3G Love as long as one wishes without getting charged for it. If somebody wants to download caller tunes, all they have to do is to give a missed call to a number and caller tunes are for free. We have 26k likes on Facebook page. We have also promoted our videos aggressively on youtube. Our first video has generated 3.6 lac views in 24 hours and viewership crossed 13.5 lacs in 7 days. We gave free downloads of songs in two formats on our website and 70k people have downloaded the songs. We have also promoted 3G love on buses and autos.
3G love
3G love is a screenplay based film with good emotions. Second half is the heart. Edo something song will be a highlight.
We have made the movie in 60 working days. The director made sure that he got all shots perfectly well. He did 60 retakes for a particular scene. This film is shot with a Red camera. We hired good technicians. The total runtime of the movie is 2 hours and 15 minutes.
Next flm?
I am planning to do another film as a producer. This film is likely to be launched for Ugadi!