Story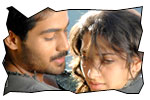 Madhumita (Tamanna) is a happy go lucky girl in a colony of a power generation plant. Her father is the chief engineer. Raghu (Rishab) is the son of a small time employee. Madhumita and her parents like Raghu and they fix an engagement with him. After the engagement, they come across a better groom (Rishi) from USA. They break this engagement to marry off Madhumita to that NRI. Raghu attempts suicide and then learns to live with the life. He goes to the USA for further studies. There he finds an interesting girl (Rukhmini). When things are going fine, Madhumita returns to his life. The rest of the story is about the complex situation Raghu goes through.
Artists Performance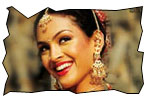 Tamanna is just adequate in this film due to poor characterization. Hero Rishab's (or Siddhardh) body language reminds us of Telugu actor Sharwanand. He is alright. Rishi resembles Tamil actor Ajith. Rukhmini is sharp and looks good in both traditional and western attires. Kitty is excellent as hero's father.
Technical departments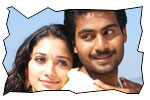 Story - screenplay - direction: The story of this movie is adapted by a Tamil novel written by popular movie writer Sujatha who worked extensively for most of Shankar's movies. But the set-up in this movie appears like decades old. Hence the entire story appears silly and obsolete if we compare it with the contemporary times. The director could have made this movie as a period film by setting it up around 70's or 80's. Screenplay of the film is shabby. The entire first half runs on a flimsy misinterpretation of hero thinking that his father has an affair with a maid servant. Characterization is also not properly done. At one point of time, we suspect if Tamanna is mentally underdeveloped as she reacts crazily in certain situations. Direction of the film is also not up to the mark.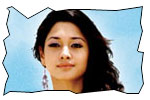 Other departments: Music by GV Prakash Kumar is average. Kalekantini song is the best among the picturized ones. Dialogues are adequate. Cinematography is alright. Editing of the film is bad as you can notice many jerks between scenes. Production values by Oscar Films are good. If you look at the last three films, all these films (Dasavatharam, Surya s/o Krishnan and Ananda Tandavam) are shot in USA.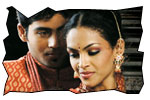 Analysis: First half of the film is a let down. Second half is slightly better. But an unpopular climax fails to impress. The plus point of the film is Tamanna. The negative points are bad screenplay and inept handling of the movie. There is also lot of perversion in the movie which might not appeal to the movie lovers. On a whole, Ananda Tandavam is a letdown.
Ananda Tandavam links
• Music launch
• Photo gallery
• Wallpapers
• Trailers
• Video songs
Jeevi reviews of previous 5 films
• Billa
• Bheebatsam
• Manorama
• Aakasamantha
• Sontha Vooru
• Malli Malli
• Mesthri
• Naa girlfriend baga rich
• Drona
• 16 Days
• Satyameva Jayathe
• Siddham
• Nenu Devudni
• Konchem Istam Konchem Kastam
• Shh...
• Arundhati

More Reviews