Story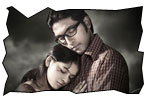 Vikram (Vikram) is a middle-class guy whose father is transferred to a remote place called Rajapalayam in Kerala. The villagemen of Rajapalayam prefer staying in the old times by not welcoming the new technologies. He falls in love with the local girl Anjali (Sri Divya). Anjali is tormented by her father and pinni. Vikram keeps helping her anonymously. Krishnan Kutty (Bhanuchandar) is the landlord of the place where Vikram resides. Kutty keeps helping Vikram in his quest for love. The rest of the story of the film is about what motivates Kutty to help Vikram and how Vikram wins his love against all odds.
Artists Performance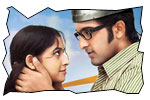 New actor Vikram is good with his looks and physique. His voice is nice. However, he should be more flexible in expressions. He should also work on his body language and dances. New actress Sri Divya is fine and she did well. Bhanu Chandar plays a pivotal role and he dons a different get-up in this movie. He is still good with fights at this age. Ramaraju is threatening in a menacing role. Ravi Prakash donned the younger version of Bhanu Chandar's role. The guy who did the role of heroine's fiancee is competent.
Technical departments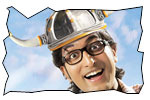 Story - screenplay - direction: Ravi Babu is known for his characterizations and technical expertise. There is an extreme side to him in designing certain characters. The characterization for hero, heroine, villain and Bhanu Chandar is good. However, the characterizations of hero's parents and sister have gone over-board. Ravi Babu likes to have dysfunctional family atmosphere in his movies (Allari, Nachavule and now Manasara) where all the family members have eccentricity in them. Screenplay is provided by Satyanand. We can call it a safe (or routine) screenplay as it involves time-tested format. Ravi Babu has taken the first half of the movie in an interesting way. The second half (which only lasts for one hour) has a flashback episode followed by a fight. It is very much essential for the flashback to work in order to make the movie interesting. But, the flashback isn't impact making one. The climax of the movie goes on a predictable fashion. The basic set-up of hero, heroine and villain triangle with forest/village backdrop looks pretty similar to that of Jayam movie. The coconut exercise seem to have been inspired by 'coat - hanger' style of tution in Karate Kid movie.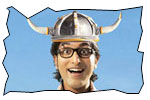 Other departments: Music by Sekhar Chandra is a huge plus to the movie. All the songs are picturized well as per the demand of the situation except for the first song (iphone theme song). Dialogues by Paruchuri Brothers are neat. Cinematography by Sudhakar Reddy is good. Art work by Narayana Reddy is nice. Ravi Babu follows Hollywood and world cinema closely for art direction and try to incorporate the same in his movies. If he had typical USA cops set-up for Amaravathi, he had Chinese peasant hats for Kerala forest dwellers in this movie. Production values by the new producer Prakash Babu Kadiyala are excellent.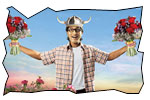 Analysis: The movie starts on a low-note with parents going over-top with their fighting. Movie gets interesting as the story shifts to Kerala. First half is adequate. The flashback episode which forms the crux of the movie should have been handled better. The climax is predictable. The plus points are music and taking of Ravi Babu. On the flip side, a better second half and an inspiring climax would have changed the commercial aspect of the movie.
Manasara Links
• Ravi Babu interview
• Trailers
• Wallpapers
• producer chat
Jeevi reviews of previous 5 films
• Rakta Charitra 2
• Orange
• Yemaindi Ee Vela
• Kalyanram Kathi
• Rakta Charitra 1
• Khaleja
• Robo
• Saradaga kasepu
• Komaram Puli
• Don Seenu
• Maryada Ramanna
• Jhummandi Naadam
• Vedam


More Reviews