Story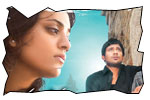 Seenu (Varun Sandesh) is a graduate who is looking out for placements in a software company. Avantika (Nisha Agarwal) is trying he luck in software field by staying in a hostel of Ameerpet. Seenu and Avantika likes each other and have pre-marital sex. Seenu proposes to Avantika and she accepts. They get married. a silly comment from Seenu turns into a big conflict which results in a divorce. They date other people and rest of the story is all about how they realise that they are made for each other.
Artists Performance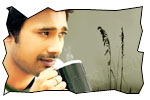 Varun Sandesh has improved in his body language and diction with this movie. He is good in the movie. He still needs to get into a groove where he can carry characters like these on his shoulders and contribute more to the characterization. For a first timer, new actress Nisha Agarwal (sister of Kajal Agarwal) does a great job at acting and screen presence. Shashank and Nisha are adequate. Vennela Kishore adds fun quotient to the movie with his dialogues. However, he should start doing versatile characters in movies in stead of sticking to the same dialogue delivery and similar kind of looks. Pragati is excellent as mother and her performance is very natural. The comedy performed by MS Narayana is stale. There are not many actors in the movie as the story sticks to limited characters.
Technical departments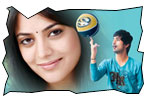 Story - screenplay - direction: It is a typical Hollywood kind of break-up story. These kinds of stories are to be dealt very deftly since they don't have any typical commercial elements. We had seen such break-up based sensible films like Sakhi and Kushi in the past. Sampath Nandi being a first-timer comes up with a commendable script. However, as a director he couldn't get the scenes the way they are supposed to be. He knows what happens to the life of youngster who is going through the lull after graduation. He has also used realistic scenes and colloquial dialogues. This film is bold and different to me in two ways -
1. Heroine will be entertaining two guys at a time so that she could go with whoever prospers well. (shows the typical practical nature of some of the girls in the current scenerio).
2. Pre-marital sex
Films like Chitram and 10th class attempted this kind of subject in the past. The director has attempted to give a good message by saying that you have to stick to your partner after the marriage despite differences. Though it might have provided some entertainment in the theater, showing girl hostel inmates of Ameerpet area as characterless is highly improper. The Ameerpet hostel scenes in the film are offensive.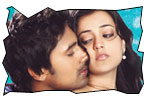 Other departments: Music scored by Chakri is mostly situational as there are no explicit duets in the movie (except for an item song meant for the break-up party of the couple). Songs are good and my favorite is 'Nee Navvule' which has retro feel to it. Cinematography by Bujji is neat. Dialogues by Sampath Nandi are good. All the people who are familiar with internet will connect to some of the dialogues. Editing is adequate. Producer should be commended for putting his money in a script that doesn't bank on commercial ingredients.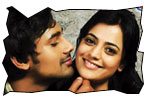 Analysis: First half of the movie is uninteresting and it banks on exploiting the teen fantasies. Second half of the film has substance. The scenes involving Pragati and kids are neatly done. Though the director penned the screenplay in back-and-forth format, the progression of story becomes predictable. Plus point of the film is the bold story line. On the flip side, a better narration/treatment would have made this movie attractive. The suggestive scenes in the first half might offend certain sections of audiences. On a whole, Yemaindi Ee Vela is a bold attempt, but not good enough!
Yemaindi Ee Vela Links
• Music launch
• Photo gallery
• Wallpapers
Jeevi reviews of previous 5 films
• Kalyanram Kathi
• Rakta Charitra 1
• Khaleja
• Robo
• Saradaga kasepu
• Komaram Puli
• Don Seenu
• Maryada Ramanna
• Jhummandi Naadam
• Vedam
• Awara
• Andari Bandhuvaya
• Rama Rama Krishna Krishna
• Simha
• Darling
• Prasthanam
• Varudu
• Maro Charitra
• Taj Mahal
• Ye Maya Chesave
• Leader
• Kedi
• Bindaas
• Seetaramula Kalyanam Lankalo
• Om Shanti
• Sambho Siva Sambho
• Namo Venkatesa
• Adurs

More Reviews