Story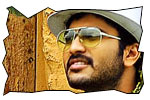 Loknath (Sai Kumar) takes over the reins of power from a dying man (Balayya). His step son is Mitra (Sharwanand) and own son is Chinna (Sudeep Kishan). Loknath wants to see Mitra as his heir because Mitra is a thinking man where as Chinna is hot-blooded guy with bad habits. The rest of the story is all about what happens when Chinna rebels uncontrollably.
Artists Performance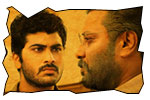 This movie is about characters and each and every small character makes an impact. This movie belongs to Sai Kumar. He has the most powerful voice in Telugu film industry and it is used for the maximum effect in this movie. Dramatized dialogues are delivered with utmost authority by Sai Kumar for this movie. Sharwanand surprises everybody with his portrayal of serious character. He looks like 'ramudu manchi baludu'. But in this film he came up with terrific and serious performance. His dialogue delivery with serious tone too deserves applause. Debutant actor Sundeep Kishan comes up with an impressive act for a role that has negative shades. His voice and modulation is good. Actress Ruby Parihar doesn't have much role to play in this movie and she is alright. Jeeva is good as a contractor. Jaya Prakash and his assistant Prithvi provide ample comedy. Surekha Vani is good. I am impressive with the guy who did the role of cop and his voice is very good. Deva Katta who gave birth to Vennela Kishore as an actor with Vennela has wasted him in this movie.
Technical departments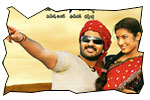 Story - screenplay - direction: Deva Katta is a serious filmmaker and Prasthanam is probably his kind of movie. There are quite a few good moments in this film which showcases his intensity in filmmaking. Direction of the movie is good. Screenplay should have been better. The narration of the movie is not smooth (little jerky). His writing is strong and some of the scenes are of top class. However, the pace of the film is too slow and it affects more adversely because it is a serious movie devoid of entertainment.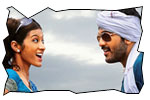 Other departments: Cinematography by Shamdat is excellent. Background music by Mahesh Shankar is good. But I observed that there are no highs/lows in the background music (probably theatre sound system fault). Songs are like speed-breakers to the story. Full credit should go to the dialogue writer Deva Katta. He has written some fine serious dialogues and a few hilarious dialogues too (alpanandamtho naaluka paresukoku, chepputho kottinaa chintamane dikku..., antha black.. aayana rangu chooste ardham kavadam leda, papisti sareeranni kanna gaani paapanni kanaledu etc). Editing should have been better.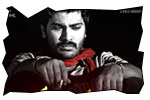 Analysis: Prasthanam is a political thriller about complex human relations between three main characters (Sai Kumar, Sharwanand and Sundeep Kishan). It also shows that there are no good men or bad men. It is all about war between good and bad within our mind. The plus points of this movie are strong writing and powerful performances. The negative points are not-so-gripping screenplay, slow narration and serious nature of the movie. This film is sure to win handful of awards. The commercial success of the movie will depend on how common movie lover embraces this serious and focussed political drama.
Prasthanam Links:
• User reviews
• Deva interview
• Ruby interview
• Music launch
• Press meet
• Photo gallery
• Wallpapers
• Trailers
Jeevi reviews of previous 5 films
• Varudu
• Maro Charitra
• Taj Mahal
• Ye Maya Chesave
• Leader
• Kedi
• Bindaas
• Seetaramula Kalyanam Lankalo
• Om Shanti
• Sambho Siva Sambho
• Namo Venkatesa
• Adurs
• Saleem
• Amaravathi
• Pravarakhyudu
• Arya 2
• Kurradu
• Village lo Vinayakudu
• Ek Niranjan
• Jayeebhava
• Bendu Appa Rao
• Mahatma
• Ninnu Kalisaka
• Ganesh
• Eenadu
• Banam
• Sankham
• Josh
• Mallanna
• Anjaneyulu
• Snehituda
• Magadheera
• Kalavaramaye Madilo
• Gopi Gopika Godavari
• Oy!
• Evaraina Epudaina
• Current
• Raju Maharaju
• Boni
• Kavya's Diary
• Ride
• Aa Okkadu
• Diary
• Pista
• Prayanam
• Kick
• Veedokkade
• Mitrudu
• Circus Circus
• Adhineta
• Punnam Naagu
• Ananda Tandavam
• Billa
• Bheebatsam
• Manorama
• Aakasamantha
• Sontha Vooru
• Malli Malli
• Mesthri
• Naa girlfriend baga rich
• Drona
• 16 Days
• Satyameva Jayathe
• Siddham
• Nenu Devudni
• Konchem Istam Konchem Kastam
• Shh...
• Arundhati

More Reviews