Story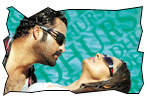 This is the story of twins who get separated at birth. Narasimha (NTR) gets raised by a single mother and he becomes an undercover agent to a top cop. Chari (NTR) is brought up by a family of traditional Hindu priests. A gang of baddies (Asish Vidyardhi and Mahesh Manjrekar) are in search of the family of a top scientist. The rest of the story is about the relationship between the scientist and the twins and the comedy generated by switching between the characters.
Artists Performance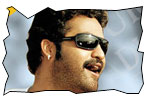 NTR: NTR donned two roles. He is extremely entertaining as Chari with Brahmin diction. He generated lots of comedy when he says 'naakesaru' repeatedly in the movie. His character as Narasimha is more like extension of his Kantri character (both looks and mannerisms). His dances are amazing and give you a mass kick in the title song that comes before climax.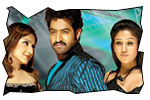 Others: Brahmanandam hogs the limelight again in this movie as a Hindu priest who 'maintains' the family of Nayana Tara. Brahmanandam has lots of footage and he in combination of NTR makes sure that there is enough entertainment. Nayana Tara is paired up with Chari character and she is pretty good. Sheela is glamorous and she is paired with Narasimha character. Mahesh Manjrekar is wasted due to poor characterization. Nassar, Sayaji Shinde and Asish Vidyardhi are alright.
Technical departments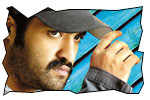 Story - screenplay - direction: Story given by Kona Venkat is contrived. It is an old-fashioned formulaic story of twins which had been presented to us umpteen number of times (Don, Rowdy Alludu, Mugguru Monagallu, Hello Brother etc). The scientist father angle is inspired by Krishh. The undercover agent had The Departed/Pokiri shades. Screenplay by VV Vinayak should have been better. VV Vinayak who brings emotion into his action films couldn't do justice to mass character in Adurs. The action sequences and emotion involved in it is not properly established. However, VV Vinayak seems to have acquired a knack for getting his comedy timing well since his last film Krishna. The characterization he has done for Chari character deserves applause. I liked the 'atma' (mummy) twist given to Brahmanandam character in the second half. The second half and climax needs a lot of improvement.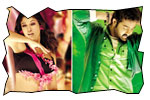 Other departments: The numbers scored by Devi Sri Prasad are just okay. My personal favourites are 'where is the panchekattu' followed by title song. Cinematography by Chota K Naidu is alright. Dialogues by Kona Venkat are good in parts. Editing and other post-production activities should have been better. The graphics work done in this movie is sub-standard compared to big hero projects. Producer Vamsi has spent good amount of money in the movie, but it is not converted into the final product. There is no slickness in visuals and sound.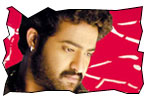 Analysis: First half of the movie is okay with some nice entertainment by NTR (Chari character) and Bramanandam. The second half of the movie where the real crux lies is not constructed well. The three serious villains (Sayaji Shinde, Asish Vidyardhi & Mahesh Manjrekar) of the movie conspire in the second half only to transform themseleves into comedy villains. The climax should have been better. Plus point of the movie is comedy by Chari character. The story and screenplay are the weaklings. VV Vinayak should have concentrated more on Narasimha character to get the balance in terms of emotion and action orientation. We have to wait and see how the masses receive it.
Adurs Links:
• User reviews
• Muhurat
• Music launch
• Logo launch
• Photo gallery
• Wallpapers
• Trailers
• Abroad: USA | UK | Autralia | Singapore | Kuwait
Jeevi reviews of previous 5 films
• Saleem
• Amaravathi
• Pravarakhyudu
• Arya 2
• Kurradu
• Village lo Vinayakudu
• Ek Niranjan
• Jayeebhava
• Bendu Appa Rao
• Mahatma
• Ninnu Kalisaka
• Ganesh
• Eenadu
• Banam
• Sankham
• Josh
• Mallanna
• Anjaneyulu
• Snehituda
• Magadheera
• Kalavaramaye Madilo
• Gopi Gopika Godavari
• Oy!
• Evaraina Epudaina
• Current
• Raju Maharaju
• Boni
• Kavya's Diary
• Ride
• Aa Okkadu
• Diary
• Pista
• Prayanam
• Kick
• Veedokkade
• Mitrudu
• Circus Circus
• Adhineta
• Punnam Naagu
• Ananda Tandavam
• Billa
• Bheebatsam
• Manorama
• Aakasamantha
• Sontha Vooru
• Malli Malli
• Mesthri
• Naa girlfriend baga rich
• Drona
• 16 Days
• Satyameva Jayathe
• Siddham
• Nenu Devudni
• Konchem Istam Konchem Kastam
• Shh...
• Arundhati

More Reviews