Story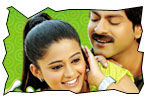 Sasi (Jagapati Babu) and Sailaja (Priyamani) are good friends during their post-graduation time. They think they are in love. But Sasi's ideology about love irritates Sailaja and both of them separate their ways. Sasi settles as a professor in Harvard University. He comes to Hyderabad to look out for a suitable girl. He then realises that Sailaja works as a principal in a women's college and she is unmarried too. The rest of the story is all about how Sasi makes Sailaja fall in love with him again.
Artists Performance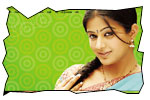 Jagapathi Babu looks very handsome in the role of a charmer. Priyamani is gorgeous in this movie and oozes natural oomph though she wore traditional dresses. Hamsa Nandini is neat in a small role. CVL makes a mark with his nice diction. Brahmanandam's role is partly entertaining. Sunil and Ali are routine. Madhu Sharma sizzled in a cameo. Dharmavarapu Subramanyam has some nice dialogues.
Technical departments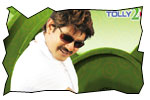 Story - screenplay - direction: Pravarakhyudu is a separation-reunion story of lovers. These kinds of separation/reunion stories should be supported by strong and convincing reason for separation. The reason of separation in the movie is flimsy and hero character never bothers to find out what happened to the heroine after the separation. When hero starts approaching heroine again after a big gap, heroine shows forced restraint without bothering to know what he is trying to convey. Madan who has strong writing abilities came up with a few interesting scenes. But lack of engaging screenplay and too many unnecessary scenes mar the narration. I liked the way heroine imagines the things visually and director used a nice technique there.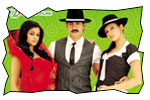 Other departments: Music by MM Keeravani is an asset. All songs are good and background music is excellent. Except for temple song, none of the other songs are placed in right situations. I liked the way he used 'vivaha bhojanambu' tune for 'you wanna taste this' episode (Jagapati Babu cooking). Dialogues are good in parts. But too many dialogues made this movie a verbose film. Cinematography by Surender Reddy is excellent. Art direction for the temple set is good. The quality of postproduction of the movie (color grading) is superb. Pravarakhyudu is one of the very few Telugu films made with top technical standards in this year. The credit must go to the producer Ganesh Indukuri who blindly believed the director and spent enormous amount of money on production and post-production activities (including a costly temple set and African safari). The producer has painted the entire city green with the posters of Pravarakhyudu (if you travel by PV Narasimha Rao's 12 km express highway, you see only posters of this movie).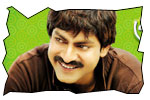 Analysis: You will find the descriptions in novels very useful to imagine and get interested in story. What happens if the same descriptions are converted into dialogues and rendered in a feature film? You will end up finding the entire movie verbose. That is the primary problem with the narration of Pravarakhyudu movie. First half of the movie is little boring. Second half is better. The plus points are Jagapati Babu and production values. On the flipside, screenplay is not engaging enough and narration lacks substance. Despite of the above mentioned flaws, Pravarakhyudu still offers something for family crowds.
Pravarakhyudu Links:
• User reviews
• Music launch
• Photo gallery
• Wallpapers
• Trailers
• Abroad: USA
Jeevi reviews of previous 5 films
• Arya 2
• Kurradu
• Village lo Vinayakudu
• Ek Niranjan
• Jayeebhava
• Bendu Appa Rao
• Mahatma
• Ninnu Kalisaka
• Ganesh
• Eenadu
• Banam
• Sankham
• Josh
• Mallanna
• Anjaneyulu
• Snehituda
• Magadheera
• Kalavaramaye Madilo
• Gopi Gopika Godavari
• Oy!
• Evaraina Epudaina
• Current
• Raju Maharaju
• Boni
• Kavya's Diary
• Ride
• Aa Okkadu
• Diary
• Pista
• Prayanam
• Kick
• Veedokkade
• Mitrudu
• Circus Circus
• Adhineta
• Punnam Naagu
• Ananda Tandavam
• Billa
• Bheebatsam
• Manorama
• Aakasamantha
• Sontha Vooru
• Malli Malli
• Mesthri
• Naa girlfriend baga rich
• Drona
• 16 Days
• Satyameva Jayathe
• Siddham
• Nenu Devudni
• Konchem Istam Konchem Kastam
• Shh...
• Arundhati

More Reviews