Story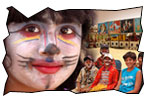 There is an NRI couple who come to Vizag on a research project. Their daughter and her cousins love playing in the beach. The kids listen to the story of a lighthouse in the beach which was once used by the sea pirates. But that lighthouse is not in use any more. One stormy night they observe that the lighthouse is functioning. They suspect that sea pirates might be operating using the lighthouse. The kids start investigating from the next day onwards. The rest of the story is all about how the kids unearth kidnapping and smuggling activities.
Artists Performance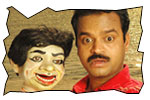 The four kids (Ajay, Chandini, Usha Sri and Manish Singh) who enacted the lead roles are cute. The guy who did the role of servant is pretty good at comedy. The ventriloquism is also entertaining. Lahari got a lengthy role and she did justice. Sreedhar and Madhuri Sen are also adequate.
Technical departments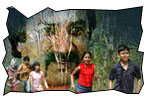 Story - screenplay - direction: The basic story has inspirations in Enid Blyton's Famous Five book series. It is a simple story that revolves around a lighthouse. The director could able to extract nice and unadulterated histrionics from the kids. However, he could not make the scenes involving adults appear natural. Screenplay of the film is plain.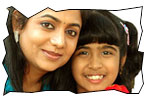 Other departments: Songs scored by Shyam – Das are good. Joker and Beautiful Day songs are nicely shot. There is some problem with lip-sync in most the movie. Dialogues are adequate. Cinematography is fair and Vizag beach is explored well.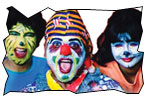 Analysis: Circus Circus is a kids adventure film that revolves around a circus unit and a lighthouse. We do expect more feats and a stunt in Circus than the movie has shown. It is a plain movie with a simple story. The runtime of the movie is also short (1:45 hours). Producer and director Umesh Kumar should be appreciated for investing his money on such a movie with noble intention of entertaining kids with a Telugu movie. Adults might find this movie unattractive, but kids will like it.
Circus Circus links
• Music launch
• Press meet 2
• Press meet 1
• Photo gallery
• Wallpapers
• Trailers
Jeevi reviews of previous 5 films
• Adhineta
• Punnam Naagu
• Ananda Tandavam
• Billa
• Bheebatsam
• Manorama
• Aakasamantha
• Sontha Vooru
• Malli Malli
• Mesthri
• Naa girlfriend baga rich
• Drona
• 16 Days
• Satyameva Jayathe
• Siddham
• Nenu Devudni
• Konchem Istam Konchem Kastam
• Shh...
• Arundhati

More Reviews