Story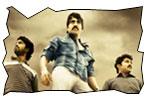 Karna (Ravi Teja), Malli (Allari Naresh) and Chandu (Siva Balaji) are friends. Karna is an unemployed youth. His maternal uncle agrees to give his daughter (Priyamani) only if Karna gets hold of a Government job. Malli dreams about going to Dubai and make money. Chandu is a responsible guy who wants to start his own small-scale organization. Santosh (Suryatej Mamidi) is a friend of Karna. Santosh loves a girl, but parents appose their love. A depressed Santosh attempts suicide. Looking at his plight, the three friends help Santosh against all odds and get them married in a temple. In the process Karna is badly hit, Malli loses his hearing ability and Chandu loses a leg. The dreams and aspirations of these three people are shattered because they went all out to help their friend. The rest of the story is all about how these three guys get back into their normal-selves and what happens if they come to know a worrying thing about the couple.
Artists Performance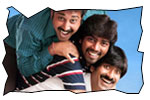 Ravi Teja is terrific in the role of an unemployed youth. He is fiery in the action episodes and his performance is great in the pre-interval action episode. Ravi Teja should be appreciated for acting in a film like this which has art orientation and realistic approach. Allari Naresh is a very good actor and this film proves his acting prowess. However, his characterization is completely inconsistent (comic, serious, eccentric and sympathetic). Siva Balaji suited the role. Suryatej Mamidi who acted in the pivotal role of lover is good. Priyamani looks artistic in the movie and she is nice. A special appreciation should be given to differently-able Telugu girl Abhinaya (who can neither hear not talk) for coming out with superb performance as the sister of Ravi Teja. Tanikella Bharani did well though there are Tamil touches to his characterization. Sunil's character gives some relief. Krishna Bhagawan is entertaining as publicity-crazy village politician. Roja is appropriate for the role of lady politician. Rao Ramesh is very good in the role of couple's care-taker. .
Technical departments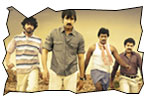 Story - screenplay - direction: Story of the movie is a realistic one and is relevant for the current scenario where the divorce rate in love marriages is much higher compared to the arranged marriages. Story interweaves friendship, love and irresponsibility. This movie is the remake of Tamil blockbuster Nadodigal and it was also directed by Samudrakhani (Samuthirakani) as well. However, Samudrakhani couldn't adapt the original to suit the tastes and nativity of Telugu audiences. He could able to pull off the first half and it's adequate. However, he couldn't get it right in the second half. Too much of Tamil nativity (especially Tanikella Bharani's suicide threat episode) mars the feel in the second half. I liked a couple of creative points in the movie. One is using camera as the eye of lover (Suryatej Mamidi) without showing lover in the flashback episode of him meeting the girl. The second is the re-recording for Allari Naresh scenes in the second half. The last twenty minutes before interval (the intense chase with terrific re-recording) is excellent. The climax of the movie is little abstract.
Other departments: The 'Sambho Siva Sambho' rerecording given for the interval chase is very good. Cinematography is realistic. Dialogues are adequate. Action episodes are realistic.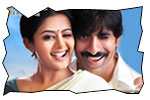 Analysis: First half of the movie is adequate. The 20 minutes chase before interval is gripping. The second half meanders and there is lots of Tamil flavour in it. The basic story idea is good and it is dealt realistically. But the director couldn't mould the movie to suit the Telugu nativity. A proper adaptation of Tamil version would have been good.
Sambho Siva Sambho Links:
• User reviews
• Music launch
• Photo gallery
• Wallpapers
• Trailers
• Abroad: USA
Jeevi reviews of previous 5 films
• Namo Venkatesa
• Adurs
• Saleem
• Amaravathi
• Pravarakhyudu
• Arya 2
• Kurradu
• Village lo Vinayakudu
• Ek Niranjan
• Jayeebhava
• Bendu Appa Rao
• Mahatma
• Ninnu Kalisaka
• Ganesh
• Eenadu
• Banam
• Sankham
• Josh
• Mallanna
• Anjaneyulu
• Snehituda
• Magadheera
• Kalavaramaye Madilo
• Gopi Gopika Godavari
• Oy!
• Evaraina Epudaina
• Current
• Raju Maharaju
• Boni
• Kavya's Diary
• Ride
• Aa Okkadu
• Diary
• Pista
• Prayanam
• Kick
• Veedokkade
• Mitrudu
• Circus Circus
• Adhineta
• Punnam Naagu
• Ananda Tandavam
• Billa
• Bheebatsam
• Manorama
• Aakasamantha
• Sontha Vooru
• Malli Malli
• Mesthri
• Naa girlfriend baga rich
• Drona
• 16 Days
• Satyameva Jayathe
• Siddham
• Nenu Devudni
• Konchem Istam Konchem Kastam
• Shh...
• Arundhati

More Reviews