Story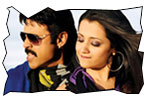 Venkata Ramana (Venkatesh) is a ventriloquist. He goes along with the troop of artists to perform for a local Telugu association in Europe. Paris Prasad (Brahmanandam) is a tour organizer in Europe. He enjoys making people around bakras. Pooja (Trisha) is the niece of Prasad. Venkata Ramana falls in love with her. Prasad realises that only way to make Ramana bakra is to tell him that Pooja loves him too. Pooja is the daughter of a rich factionist in Rayalaseema and she is forced to return back in the middle. Her marriage is fixed with a guy she doesn't like. The rest of the story is all about how Prasad conspires with Ramana to rescue Pooja.
Artists Performance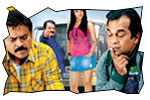 It's a cake walk for Venkatesh to do such a fine comedy performance. He looks good and performs very well in the only emotional scene in the climax. Trisha is nice. Brahmanandam is pretty good as a guy who loves fooling around with the people. Ali is entertaining in a brief role. MS Narayana's jyotishyam episode is nice. It's a routine role for Subbaraju. Jaya Prakash Reddy, Dharmavarapu, Kota and Telangana Sakuntala are adequate. Master Bharath's character is not hilarious as it is supposed to be a positive character helping hero.
Technical departments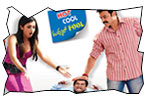 Story: There is no freshness in the story and entire story runs on deja vu. We have seen innumerous movies (Sankham, Jayeebhava, Saleem to name a few in the last few months) in the past where the half of the film happens in the abroad and the other half shifts to Rayalaseema. Our story writers are still stuck in DDLJ hangover where hero comes from abroad to stay in heroine's place. The idea of hero planning to start a factory by partnering with the family of heroine is also inspired by DDLJ. Venkatesh has done similar climaxes in three films after year 2000 (Nuvvu Naku Nachav, Vasantham, Adavari Matalaku Ardhalu Verule) where heroine who is about to get married to another guy changes her heart in the last minute.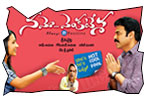 Screenplay - direction: Screenplay of the movie is good in parts. Seenu Vytla who mastered the art of entertainment made sure that he had lots of entertaining scene in the movie. However, most of them are already done by him in movies like Dhee and Ready. Irrespective of how many number of times he directs drinking scenes in his movies, Seenu Vytla makes sure that he entertains each of the time in a refreshing way. The way Venkatesh dances to tunes of other heroes and beats Brahmanandam up by remembering his enemies is good. I also like the creative idea of changing the tunes in the background when Venkatesh and Ali aim for Trisha (Emaindi Ee vela and aashique banaya). We expect a lot from Brahmanandam character in Seenu Vytla movies. In the earlier movies of Seenu Vytla, heroes make Brahmanandam a bakra and audiences loved it. However, in this movie Brahmanandam makes hero bakra most of the times. Hence the desired effect is missing on the Brahmanandam character in this movie compared to earlier Seenu Vytla's movies. Screenplay of the movie becomes disengaged towards latter part of the second half.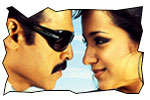 Other departments: Music by Devi Sri Prasad is adequate with the title song being peppy. Picturization of the songs is very good. Cinematography by Prasad Murella deserves a special applause as the visuals are shot beautifully. The virgin locations chosen for shooting of songs are excellent. Diaogues by Ramana Chintapally are nice. Production values by the new production house '14 Reels Entertainment' are very good. A lot of care is taking in postproduction activities as well.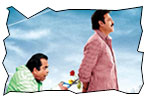 Analysis: First half of the movie is entertaining. The second half becomes little lengthy and predictable. The plus points of the movie are Venkatesh's performance and Seenu Vytla's entertainment orientation. On the flipside, a novel screenplay (as most of the screenplay resembles that of Ready and Dhee) in the second half would have given fresh feel to the movie. We have to wait and see how it works at box office.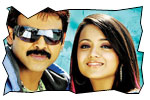 Tailpiece: Venkatesh has always been a producer's hero. Not many people know that Venkatesh suffered with chikungunya towards the end of the shoot of this movie. He had to dance for Namo Venkatesa title song and Bangkok song despite of the pains because they had to release the movie for Sankranthi. If you look at Venkatesh in these songs, you realise that he looks fresh and happy. That's why Venkatesh is called as the producer's hero.
Namo Venkatesa Links:
• User reviews
• Music success meet
• Music launch
• Press meet
• Photo gallery
• Wallpapers
• Trailers
• Abroad: USA
Jeevi reviews of previous 5 films
• Adurs
• Saleem
• Amaravathi
• Pravarakhyudu
• Arya 2
• Kurradu
• Village lo Vinayakudu
• Ek Niranjan
• Jayeebhava
• Bendu Appa Rao
• Mahatma
• Ninnu Kalisaka
• Ganesh
• Eenadu
• Banam
• Sankham
• Josh
• Mallanna
• Anjaneyulu
• Snehituda
• Magadheera
• Kalavaramaye Madilo
• Gopi Gopika Godavari
• Oy!
• Evaraina Epudaina
• Current
• Raju Maharaju
• Boni
• Kavya's Diary
• Ride
• Aa Okkadu
• Diary
• Pista
• Prayanam
• Kick
• Veedokkade
• Mitrudu
• Circus Circus
• Adhineta
• Punnam Naagu
• Ananda Tandavam
• Billa
• Bheebatsam
• Manorama
• Aakasamantha
• Sontha Vooru
• Malli Malli
• Mesthri
• Naa girlfriend baga rich
• Drona
• 16 Days
• Satyameva Jayathe
• Siddham
• Nenu Devudni
• Konchem Istam Konchem Kastam
• Shh...
• Arundhati

More Reviews