Story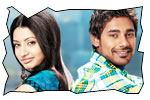 Balu (Varun Sandesh) is born and brought up in USA. Swapna (Anita) moves to USA because her father's research on Telugu folk songs is being encouraged by a university in USA. Balu and Anita are neighbours. Balu's father (Pratap Pothan) is highly sophisticated and is extremely strict in nature. Anita's mother (Urvashi) is highly rustic (Srikakulam accent) and narrow-minded. Balu and Anita fall in love, but parents oppose. Parents put a restriction that if these two lovers don't meet/communicate for a year, then they can get married. Balu joins a job. His boss (Shraddha Das) is a tender woman who is coming out of depression due to a personal loss. Anita's brother-in-law (Adarsh Bala Krishna) tries to create rift between Balu and Anita. Rest of the film is about how love prevails and lovers overcome all the obstacles.
Artists Performance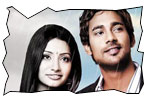 Varun Sandesh looks dashing as a NRI youngster. However he accent is highly artificial. I liked Varun Sandesh's spontaneity in Happy Days and I expected the director to extract it more in this film. But the characterization of hero in this movie doesn't gel well. Anita looks good in modern dresses that she wore in songs. But she is unappealing in traditional outfits. Director tried to extract creative expressions from her, but something is amiss due to unappetizing characterization. Shardaddha Das is endearing in a short role. She suits modern characters very well. Upcoming actor Adarsh Bala Krishna did the role of heroine's bava. His sophisticated accent and looks are apt for this role. The character artists chosen for parents characters are from Tamilnadu. Though they have done well, it creates nativity problems in Telugu. That is the reason why the scenes involving Kota, Venky and Venu offer relief because their language is the only familiar language in the entire movie. Venky entertains with his Telangana accent (especially dinaamu... dialogue). Naresh played the role of a local cop. Though he has done well, his fake NRI accent doesn't render credibility to his character.
Technical departments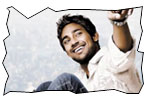 Story - screenplay - direction: This is the remake of yesteryear's classic Maro Charitra. Hence story and screenplay is borrowed from the old movie. Though Maro Charitra is a great film, it holds no relevance and freshness in the contemporary scenario. Old movie banks on the cultural differences between a couple (Tamil boy and Telugu girl). The director has modified it to a rustic girl and uber-cool boy. If Vizag beach was the backdrop of old film, Niagara Falls is the backdrop for the new movie. Debutant director Ravi Yadav fails to recreate the magic of old classic. He doesn't have grip of narration. It is a love story and establishing romance between the lead pair should be impact making. But the director couldn't get it right in the movie. The movie also shows director's lack of understanding of Telugu language and local sensibilities. Since the movie is set in USA, the director should have cast Telugu character actors to get feeling of familiarity. By having Tamil actors (Pratap Pothan, Thalaivasal Vijay and Urvasi) doing the roles of lead pair's parents, the movie becomes much unfamiliar. May be the producer wanted it to be dubbed in Tamil if this movie becomes a hit in Telugu. One scene that deserves appreciation is the one where lovers feel the presence but avoid making eye contact in Times Square, NY.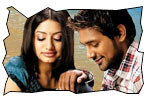 Other departments: Music by Mickey J Meyer is excellent. It is a big challenge to score fresh music for old lyrics and Mickey came up with fabulous job. Background score by Thaman is also good. Cinematography by Ravi Yadav is a huge asset to the movie. His top class cinematography is a treat to eyes. The locations chosen are excellent. All the songs are shot in exquisite locales. Probably no other Telugu movie in the past was shot in USA so beautifully. The Niagara falls, Las Vegas (we don't care song), Times Square and Salt landscapes in Utah (Bhale Magadivoy song) are superbly mounted. Editing is ok. Dialogues by Anuradha have depth in them, but they appear verbose on the screen as the scenes are not conceived in an interesting manner. Matinee Entertainments and Dil Raju have spent a lot of money on quality of the movie and it shows on the screen.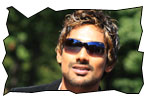 Analysis: A film like old classic Maro Charitra becomes totally irrelevant in the presence scenario. We had seen many similar films with similar backdrops released after Maro Charitra. The conflict point and fun element in this movie has become clichéd by now. Hence, it poses a great challenge to the filmmakers to come up with an adaptation/remake. Director Ravi Yadav doesn't do justice to the movie and the latest version lacks soul. Though the movie is technically brilliant (music, cinematography and production values), the wrong casting and unattractive narration lets the movie down. On a whole, Maro Charitra disappoints even if we don't compare it with the classic.
Maro Charitra Links:
• User reviews
• RaviYadav notes
• Mickey notes
• Music launch
• Muhurat
• Press meet 2
• Press meet 1
• Photo gallery
• Wallpapers
• Trailers
Jeevi reviews of previous 5 films
• Taj Mahal
• Ye Maya Chesave
• Leader
• Kedi
• Bindaas
• Seetaramula Kalyanam Lankalo
• Om Shanti
• Sambho Siva Sambho
• Namo Venkatesa
• Adurs
• Saleem
• Amaravathi
• Pravarakhyudu
• Arya 2
• Kurradu
• Village lo Vinayakudu
• Ek Niranjan
• Jayeebhava
• Bendu Appa Rao
• Mahatma
• Ninnu Kalisaka
• Ganesh
• Eenadu
• Banam
• Sankham
• Josh
• Mallanna
• Anjaneyulu
• Snehituda
• Magadheera
• Kalavaramaye Madilo
• Gopi Gopika Godavari
• Oy!
• Evaraina Epudaina
• Current
• Raju Maharaju
• Boni
• Kavya's Diary
• Ride
• Aa Okkadu
• Diary
• Pista
• Prayanam
• Kick
• Veedokkade
• Mitrudu
• Circus Circus
• Adhineta
• Punnam Naagu
• Ananda Tandavam
• Billa
• Bheebatsam
• Manorama
• Aakasamantha
• Sontha Vooru
• Malli Malli
• Mesthri
• Naa girlfriend baga rich
• Drona
• 16 Days
• Satyameva Jayathe
• Siddham
• Nenu Devudni
• Konchem Istam Konchem Kastam
• Shh...
• Arundhati

More Reviews