Story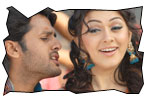 Chandu (Nitin) is a student in a college in Hyderabad and he falls in love with his junior Nandu (Hansika Motwani). Nandu's father (Suman) is a big factionist in Rayalaseema. VP (Salim Panda) is another noted factionist and he falls in love with Nandu at the first sight. He kidnaps her and wants to marry her. The rest of the story is all about how Chandu enters the house of VP as undercover and marries Nandu.
Artists Performance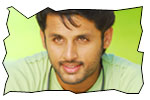 Nitin is good in the movie. He works hard on dancing aspect and it shows on the screen. Hansika Motwani is glamorous. It is Subbaraju who steals the show with the comedy. Subbaraju who got popular as a villain so far shows the other side of him and entertaining with impeccable comedy timing and nice dialogue delivery. Brahmanandam did another lengthy role in this movie and he entertains partly. Saleem Panda played the role of villain, but doesn't click due to poor characterization. Ali is good. Suman, Jaya Prakash Reddy and Chandra Mohan are adequate.
Technical departments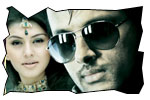 Story - screenplay - direction: Story of the movie is stale as we have seen similar stories and similar treatment in many movies. The concept of villain liking the heroine and kidnapping her is seen films like Okkadu and Kasko in the recent past. The hero coming to the wedding of heroine and stealing her away is the most abused second half done by many filmmakers following the success of trend-setting DDLJ movie. The director, who showed lack of skill in directing the first half, comes up with some nice comedy moments in the second half. But the old-fashioned story and treatment mars the movie. The concept of Srilanka Devullu is nice. The character of villain is made dumb as he dances to the tune of hero throughout the movie. The second half screenplay reminds us of Seenu Vytla films (Dhee/Ready).
Other departments: Music by Anoop Rubens is ok. The kiss song is nice. Cinematography is adequate. Fights are nice.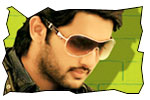 Analysis: First half of the movie is boring and is not handled well. Second half gives some entertainment though the screenplay is predictable. The plus point of the film is the comedy of Subbaraju/Brahmanandam in the second half. On the flipside ineffective screenplay and stale story are the culprits. On a whole, Seetaramula Kalyanam Lankalo is a disappointment.
Seetaramula Kalyanam Lankalo Links:
• Music launch
• Photo gallery
• Wallpapers
• Trailers
• Video songs
Jeevi reviews of previous 5 films
• Om Shanti
• Sambho Siva Sambho
• Namo Venkatesa
• Adurs
• Saleem
• Amaravathi
• Pravarakhyudu
• Arya 2
• Kurradu
• Village lo Vinayakudu
• Ek Niranjan
• Jayeebhava
• Bendu Appa Rao
• Mahatma
• Ninnu Kalisaka
• Ganesh
• Eenadu
• Banam
• Sankham
• Josh
• Mallanna
• Anjaneyulu
• Snehituda
• Magadheera
• Kalavaramaye Madilo
• Gopi Gopika Godavari
• Oy!
• Evaraina Epudaina
• Current
• Raju Maharaju
• Boni
• Kavya's Diary
• Ride
• Aa Okkadu
• Diary
• Pista
• Prayanam
• Kick
• Veedokkade
• Mitrudu
• Circus Circus
• Adhineta
• Punnam Naagu
• Ananda Tandavam
• Billa
• Bheebatsam
• Manorama
• Aakasamantha
• Sontha Vooru
• Malli Malli
• Mesthri
• Naa girlfriend baga rich
• Drona
• 16 Days
• Satyameva Jayathe
• Siddham
• Nenu Devudni
• Konchem Istam Konchem Kastam
• Shh...
• Arundhati

More Reviews